Samsung lifts cover off ATIV Smart PC and ATIV Smart PC Pro Windows 8 tablets
19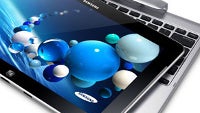 The Samsung ATIV Smart PC and the ATIV Smart PC Pro are the Koreans first two Windows 8 tablets, both powered by Intel's x86 processors running the full version of Microsoft's new operating system.
The biggest difference between the Samsung Ativ Smart PC and the PC Pro is in the hardware - the Smart PC runs on an Intel Atom chip and brags about having a battery life of 13.5 hours, while the Smart PC Pro features the Intel Core i5 chip and lasts for less, 8 hours. The Smart PC Pro also has a USB 3.0 port, while the Smart PC has USB 2.0 only.
Otherwise, the two devices look almost completely similar. Both have 11.6-inch displays that detach from the keyboard dock and could be used as a tablet with multitouch support, both come with Samsung's S Pen and S Camera. The Ativ Smart PC Pro features a high-res full HD display, though, while the Atom-based Smart PC comes with 1366 x 768 pixel screen.
Samsung is planning on releasing the Ativ Smart PC tablets around the end of October with the launch of Windows 8 for a yet undisclosed price.
source:
Samsung
Recommended Stories