Samsung introduces two anti-theft features for the Verizon and U.S. Cellular Samsung Galaxy S5
16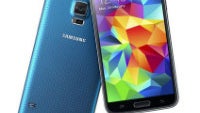 Samsung is adding two new anti-theft features to the
Samsung Galaxy S5
. Neither of them is
a "Kill Switch," which is what law enforcement officials would prefer
. A bill that would mandate the inclusion of a "Kill Switch" on new smartphones,
is currently awaiting action in the Senate
. By allowing a phone to be remotely shut down, it could be less of a target for thieves, who would have no place to sell the fruits of their illegal activity.
The new features being added to the Samsung Galaxy S5 are "Find My Mobile" and "Reactivation Lock." Both will have to be activated by users of the phone, and will be only available on versions of the model sold by Verizon and U.S. Cellular. "Find My Mobile" will allow those with a lost or stolen Samsung Galaxy S5, to track the location of the unit. It will also remotely lock the handset, and tell the owner when an unfamiliar SIM card has been inserted into it. "Reactivation Lock" prevents anyone but the owner of the phone from resetting the device. Both anti-theft features are free, and are similar to anti-theft features on the Apple iPhone such as "Find My iPhone" and "Activation Lock". "
Samsung takes the issue of smartphone theft very seriously, and we are continuing to enhance our security and anti-theft solutions
," the Korean manufacturer said in a statement.
San Francisco District Attorney George Gascón has long been an advocate for a "Kill Switch." He has previously blamed the carriers and insurance companies for failing to get manufacturers to add the switch to their smartphones. Gascón has said that the carriers are making too much money selling replacement phones and getting customers to buy premium insurance, which explains their reluctance to follow the recommendations of law enforcement. Gascón and New York Attorney General Eric T. Schneiderman released a joint statement, saying that Samsung's action sends a message that everyone in the industry needs to work together to make customers safer.
"While we are concerned that consumers will need to opt-in to the system, thereby limiting the ubiquity and effectiveness of the solution, the fact that Samsung and these carriers have agreed to work together to make Find My Mobile and Reactivation Lock available sends a strong message that all participants in this industry can indeed work together to make their customers safer."
-George Gascón, San Francisco District Attorney, Eric T. Schneiderman, New York Attorney General
source:
CNET