Samsung having trouble with its YOUM flexible display yields, devices put off for H1 2013
18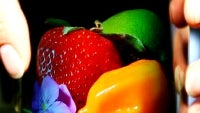 We've been waiting for a phone with
flexible AMOLED from Samsung
this year, as that's what all rumors were pointing to, but it seems that the manufacturer has run into road blocks when trying to leverage the lab process to mass scale production, a Korean publication reports.
The decision to make a dedicated A3 line for making the
YOUM-branded flexible AMOLEDs
has been canned, and the process moved to the existing A2 one for easier supervision. The problems is said to be not with the blue diode, which is produced with the existing FMM method that Samsung makes the Galaxy series AMOLED screens with, but rather with the red and green ones, which have to be produced by the new Laser-Induced Thermal Imaging (LITI) method.
While LITI allows for much higher pixel densities, and is much cheaper than FMM, it is also hard to scale for a mass production, and apparently that
hybrid production method
is what Samsung is struggling to sort out now.
If it manages to figure it out by year-end, high-resolution unbreakable AMOLED screens with RGB pixel matrices and plastic substrate are poised to enter devices in the first half of next year at the earliest. Samsung is the company that
broke a football field worth of display glass
to make those HD Super AMOLED screens, after all, so we keep our hopes high.