Samsung said to reach 350ppi pixel density with current production tech, we await Super AMOLED HD Plus
38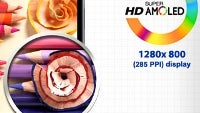 A Korean source reports that Samsung has cracked the code to achieve 350ppi pixel densities with its AMOLED displays, using the current FMM (Fine Metal Mask) production method. So far FMM only allowed comparatively low pixel densities, which forced Samsung to utilize the
PenTile matrix pixel arrangement
to achieve those Super AMOLED HD screens in the
Galaxy S III
,
Galaxy Note
or the
Galaxy Nexus
.
Samsung has been test-running the Laser-Induced Thermal Imaging (LITI) production method for AMOLED screens with very high pixel density, as it allows pixels to be laid out with much greater precision, but apparently LITI, albeit cheaper than FMM, couldn't be upscaled for mass production without issues. That's why the report that Samsung has managed to achieve 350ppi pixel densities with FMM for its small and medium AMOLED panels, such as those for smartphones and tablets, is so significant, if true.
This way Samsung can use the existing equipment that is already churning out millions of those displays, and we are curious whether this will result in a
Super AMOLED HD Plus
display in its next flagship phones and tablets. This year Samsung broke our hearts by placing an
improved PenTile screen in the Galaxy S III
, instead of S-AMOLED HD+, but the 350ppi FMM news keeps our hopes high to see an RGB matrix in the next high-end season.