Samsung has sold over 40 million Galaxy Notes to date
37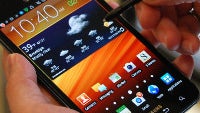 We've known for a while thatSamsung's Galaxy Note line has done exceptionally well for itself andthe company behind it, but it always help to put things intoperspective with a number of units sold. This is exactly what AndyTu, Samsung's general manager for Taiwan has done during the launchof the Note 3 in the country earlier today. That number reads 10million units of the original Galaxy Note and another 30 million ofthe Galaxy Note II sold worldwide. This number coincides somewhat with thefigure given by Samsung's very own JK Shin halfa month ago.
That's a pretty darn impressivegrowth rate, and more than indicative of both the booming popularityof Samsung's Note line and the phablet segment as a whole, which isnow more crowded than ever. This obviously puts a lot of pressure onSamsung and its new Galaxy Note 3, and as positive as ourfirst impression of the phablet is, it doesn't seem like thereception of the Note 3 has been so great. In fact, Korean ETNewscites sources within local carriers as claiming that preorders forthe giant smartphone have been very disappointing, indeed.
Nothing is set in stone just yet,however, so we wouldn't jump to any conclusions just yet. Besides, wefully expect that Samsung will release the figures on its own soonerrather than later.
Source: Focus Taiwan, ETNews viaUnwiredView