Samsung Galaxy Note 3 Preview
82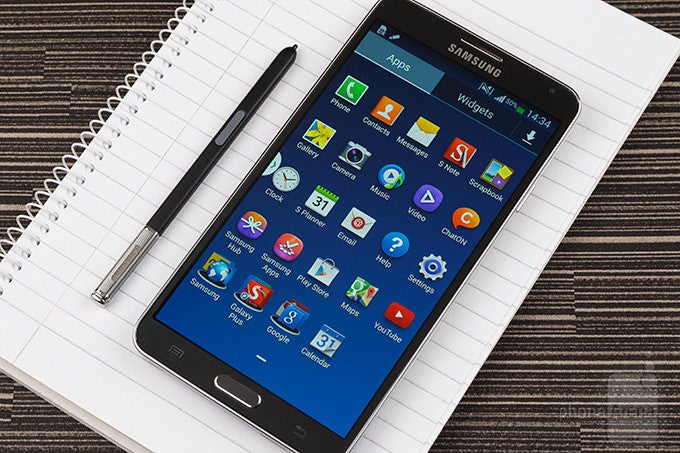 Samsung isn't the first company that tried to come up with a device blending the functionality of a smartphone and a tablet into one. However, it deserves credit for delivering the first large-screened handset that was actually good, thus kickstarting a whole new category of devices. Of course, we're referring to the very first
Samsung Galaxy Note
– announced a little over two years ago. Thanks to the trend that Samsung built up with its innovative, globally successful product, we've arrived to a point in time where most smartphone manufacturers now have a phablet in the fight, or are in the process of developing one.
The latest phone in the company's series is the recently announced
Samsung Galaxy Note 3
. Picking up where its predecessor left off, it comes with an S Pen stylus that is now more functional than ever. But that's far from all. In fact, Samsung's newest Note handset lands right into the high-end smartphone department, packing hardware that will easily get any tech geek excited. That includes a massive, 5.7-inch Super AMOLED display, a last-generation quad- or octa-core processor, and a 13MP camera, all of that complemented by software features and stylus functionality found on no other handset.
So yeah, the Samsung Galaxy Note 3 is shaping up as a beast of a smartphone, ranking among the best that have been announced so far. And now is the time to find out whether it has what it takes to become as successful as its predecessors.
Note: The Samsung Galaxy Note 3 unit used for this preview is running an early software build. Therefore, the appearance, performance, and operation of certain features might differ from what we may see on a retail Note 3 unit.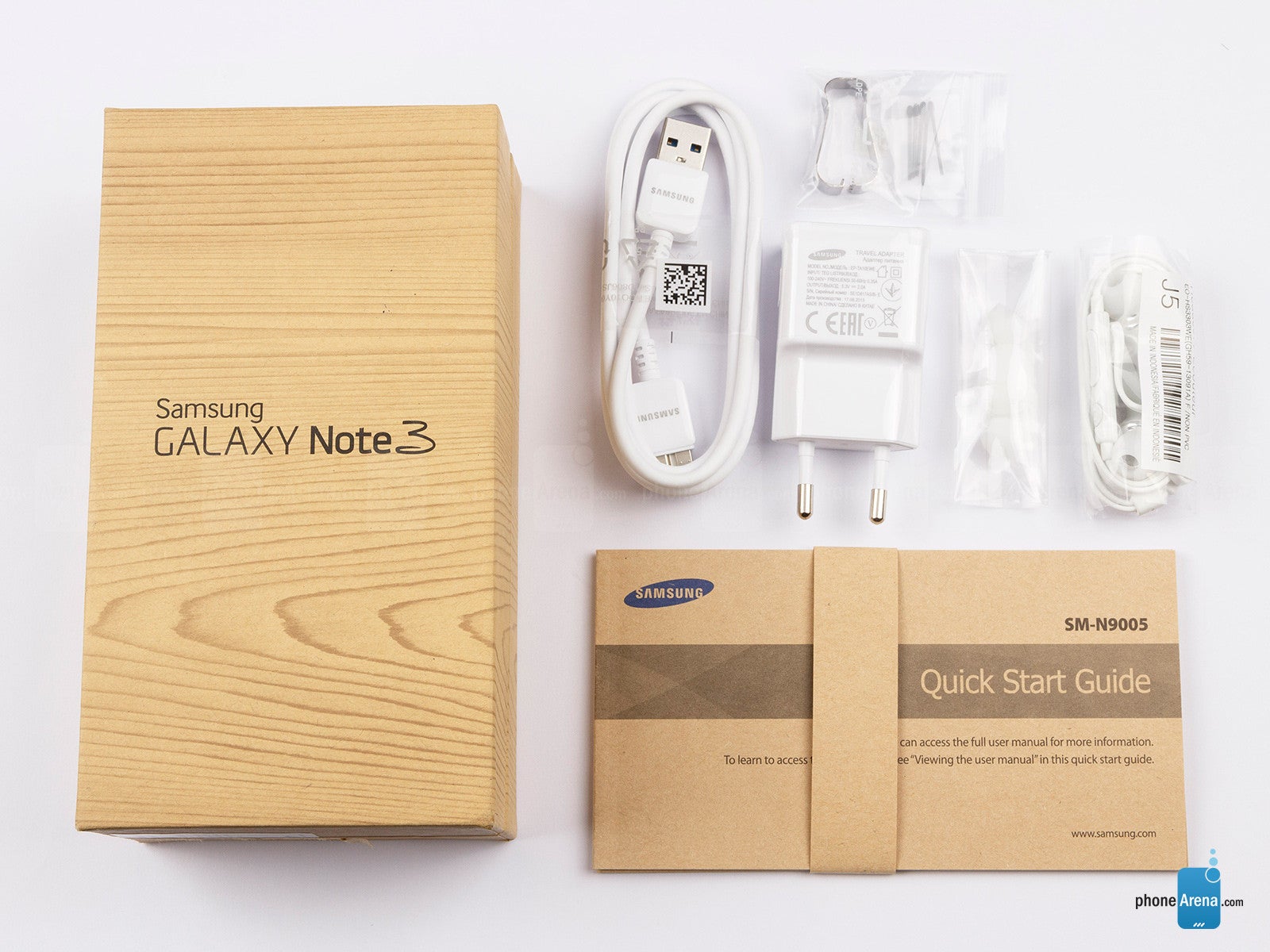 In the box:
In-ear stereo headphones
Extra earphone tips of various sizes
Wall charger
microUSB cable
Replacement S Pen tips
Quick start guide
Design
Samsung did mostly what was expected of it with the design of the Note 3, and it did it well, making the phone thinner and lighter than its predecessor. Even though the new model comes with a 5.7-inch screen – 0.2 inches larger in diagonal size than the display on last year's Note II – the newer model is tangibly more compact. The difference isn't vast, but we can definitely feel it when holding the two side by side.
And speaking of holding the Samsung Galaxy Note 3, we can confirm that operating it with a single hand is a chore compared to a regular-sized phone. But that's pretty much a given with handsets of this size so we wouldn't mind accepting Samsung's phablet as it is. Holding the Note 3 in one hand while navigating through its interface with the other, or using the S Pen, is the typical usage scenario for this device. There is an option, however, to shrink the keyboard or dialer right or left, so you can type a quick text reply or call a number with one hand only.
We were genuinely surprised to see Samsung taking a different approach to designing the exterior of the phone. The company has picked a faux leather back with stitching elements, meant to prompt the impression of a venerable notebook. Although the back of the Galaxy Note 3 is actually made of plastic, it looks fancy and sophisticated, while the soft touch finish does remind us of real leather as we run our fingers across its surface. As usual, Samsung has opted for a removable back cover, underneath which we find the user-replaceable battery, as well as the SIM and microSD card slots.
The Samsung Galaxy Note 3 comes in white or black, and there is a pink exterior available as well for those who prefer a color that is less conservative. In addition, a bunch of colorful S View cover cases are to be launched alongside the device, meant to protect and augment its looks to your heart's desire.
The buttons present on the Note 3 are all easy to feel and press, with very good tactile feedback, and that goes for the trademark physical Home key underneath the display as well. The Menu and Back keys, placed alongside the Home key are of the capacitive kind.
S Pen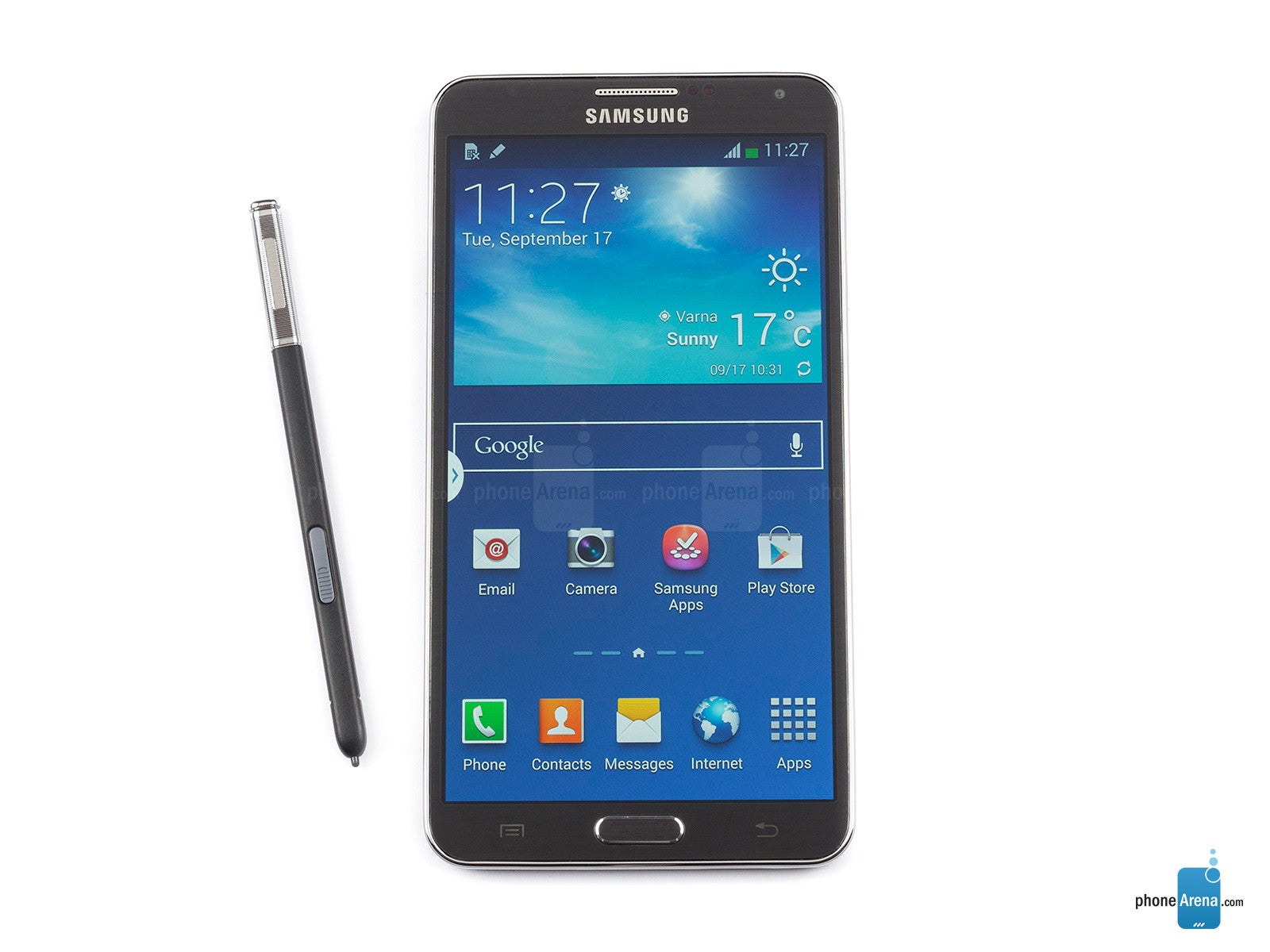 For those who aren't familiar with the matter, the S Pen is an advanced digital stylus and one of the prime stand-out features of the Samsung Galaxy Note 3. By "advanced" we mean that it is much more precise than regular capacitive styli and capable of detecting minute variations of pressure, creating strokes of variable width as you write. Furthermore, the tip of the stylus can be picked up even if it is just hovering above the phone's screen, which results in more precise drawings and selections. By pressing a button located on the S Pen's side, the user is given access to extra features, which we are about to tell you more about in the next chapter. A clever addition is the option to have the phone sound an alert in case the S Pen isn't nearby. You know, just in case the accessory is misplaced.
The S Pen fits firmly in its dedicated slot. It is easier to take out and slide back in than before, but it doesn't blend seamlessly with the phone's design anymore as a little bit of it protrudes out of the housing. The accessory is light and long enough to be held and used comfortably, although lefties might find its placement on the right rather annoying.
Display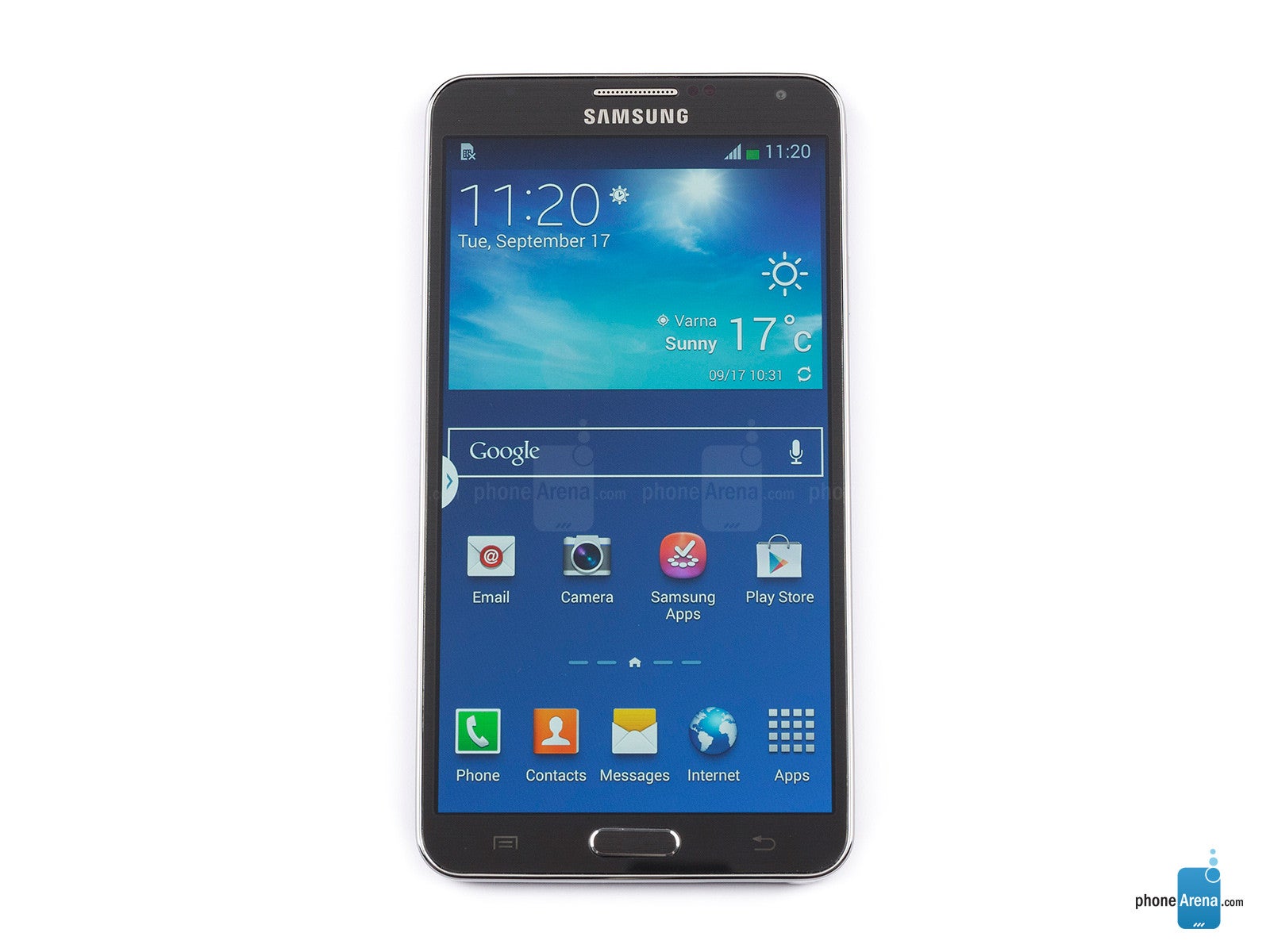 As we stated above, the display on the Samsung Galaxy Note 3 has grown a bit from what the second-gen Note had to offer. The front of the new model is graced by a gorgeous, 5.7-inch display, and it's a Full HD affair now. Punching the 1080x1920 pixels of resolution into a DPI calculator results in a pixel density of about 386ppi, which explains why everything shown on the display looks nice, smooth, and detailed. And besides, you'll likely be holding the gargantuan handset even further from your eyes than smaller phones, so you can rest assured no icon jaggies or letter edges will be visible, even when fully zoomed in during browsing, for instance.
Color representation is on the overly saturated side by default – something typical for Super AMOLED panels. And that's okay as some users do dig exaggerated colors on their smartphone's screen. We, however, find the so-called "Professional Photo" screen mode much more pleasing to the eye, with its much truer color reproduction. There are several of these modes to choose from, in addition to the Adapt Display regime, which automatically tweaks the screen's settings depending on what's being displayed.
The display is pretty bright for a Super AMOLED panel, though still far from the best LCD units in that respect. Nevertheless, outdoor visibility is aided by the very low reflectance ratio under direct sunlight, and the deep black levels make elements more distinct when plenty of diffused lighting is present outside. Even on a bright sunny day, we could use the Samsung Galaxy Note 3 without much effort, as long as the sunlight wasn't reflected straight at our eyes.
As usual, we have impressive viewing angles thanks to the OLED technology, with little color shifting and sufficient brightness retained even when the handset is tilted to the extremes.
Samsung has not forgotten to add some extra sensitivity to the touchscreen on the Note 3, thus making it usable even while the user is wearing gloves. Interestingly, the panel's sensitivity is adjusted automatically, meaning that there's no need for the user to set it manually.