Samsung gives the owner of a mint condition LG K8 $25 for its Galaxy S8/S8+ trade-in deal
93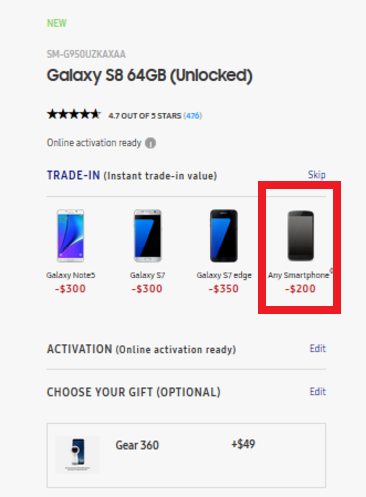 Samsung's website showing how much trade-credit each trade receives from the manufacturer.
This past week we told you about a couple of Samsung sponsored deals that that did not live up to their promise. We mentioned how one BOGO participant purchased a
Samsung Galaxy S8+
for full price and was supposed to get a free
Samsung Galaxy S8
within 1 to 3 business days. Instead,
the second free model has been placed on back order
. With the other deal, Samsung promised a $200 credit toward the purchase of the Samsung Galaxy S8 or Samsung Galaxy S8+ to anyone trading in a phone in working condition.
Some taking advantage of this deal said that
Samsung was refusing to give some consumers the full trade-in value of $200
by sending them the bare minimum of $25 for trades that were obviously worth a lot more. For example, one loyal Phone Arena reader wrote us today to explain how he received only $25 from Samsung for his mint condition
LG K8
. To refresh your memory, Samsung said that to be given the full $200 credit, the phones traded in need to work, have a screen with no cracks, and must hold a charge.
According to Samsung, this fellow's trade did not not meet the criteria for "normal wear and tear." As a result, he was charged $175 which reverses all but $25 of the original $200 he received toward the purchase of the Galaxy S8 or Galaxy S8+. While promoting the deal in its website, Samsung graphically illustrated that certain Galaxy models were worth as much as $350 with a trade-in. The last image was titled
all smartphones
and showed that trades under this too broad of a category were worth $200. To make matters worse, once a phone is traded in, Samsung will not return it under any circumstances. That means in a case like this, Samsung's word is final.
But Samsung isn't totally wrong. What might have happened here is that Samsung got tired of handing out $200 credits for cheap trade-ins. The LG K8 is priced at about $50 at Best Buy for Verizon's pre-paid plan. To avoid this in the future, Samsung needs to be more specific about the kind of phones that will receive full value in a trade-in promotion instead of using the vague "All Smartphones" category.
Thanks for sending this in!