Is Samsung refusing to honor some eligible trades for its $200 Galaxy S8/S8+ deal?
61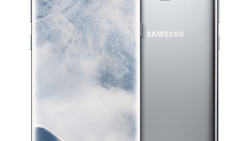 Samsung recently announced a trade-in deal for which
it would accept any handset meeting certain conditions, and take $200 or more off the price
of an unlocked
Samsung Galaxy S8
and
Samsung Galaxy S8+
for AT&T, US Cellular, or Verizon. The phone is purchased from Samsung.com at the discounted price, and the trade is then sent to Sammy. If your trade doesn't qualify for one reason or another, you will be charged $175 extra on your original payment method since all trades are worth at least $25. No matter what Samsung offers you for the trade, you cannot get back the phone you sent in.
Human nature being what it is, many consumers have been trying to game the deal by buying cheap handsets from Target or Walmart. One suggestion made online told those interested in obtaining the discount to purchase the Alcatel OneTouch Pixi Eclipse from Walmart for $9.99. Other started rummaging through their drawers for older smartphones that they did not throw away. All handsets are said to qualify for the trade as long as they are in working condition with no cracks on the screen, and no problems charging the battery. Models accepted by Samsung have included the
Moto E
,
Motorola DROID
and the
Motorola DROID 2
.
As more consumers send in older or cheaper trades, Samsung appears to be disqualifying more phones. A gentleman named Don attempted to trade-in a new prepaid Alcatel phone and received an email from Samsung telling him that he would be charged $175 on his original form of payment. At the bottom of the email, Samsung printed: "The following condition was not met: Phone not functioning/cracked screen." Remember, this was a brand new phone that seemingly met the letter of the trade conditions even if it was purchased for only $9.99. To show you how strange the selection process is for this deal, Samsung has at times accepted and rejected the Alcatel OneTouch Pixi Eclipse.
"Dear Don,

Your original method of payment will be charged $175.

The Trade-In phone we received did not meet one or more of the eligibility criteria and you will be charged for the Trade-In Value you have already received through our Program. All charges will be applied to your most recent method of payment on file. Samsung will not be able to return your Trade-In device back to you. Click to see the Terms and Conditions of the Samsung Trade-In Program.

You will receive a separate email confirmation of this charge

The following condition was not met:
Phone not functioning/cracked screen."-Email sent by Samsung rejecting trade of a new prepaid Alcatel phone toward a $200 discount on the S8/S8+"
Recent Samsung models bring in more than $200 in trade. The
Samsung Galaxy Note 5
and
Samsung Galaxy S7
are both good for $300 off the Galaxy S8/S8+, while the
Samsung Galaxy S7
edge is good for $350 off.
Has Samsung rejected a phone that you sent in as a trade even though it met the conditions laid out by the company? Tell us about it by dropping your comments in the box below!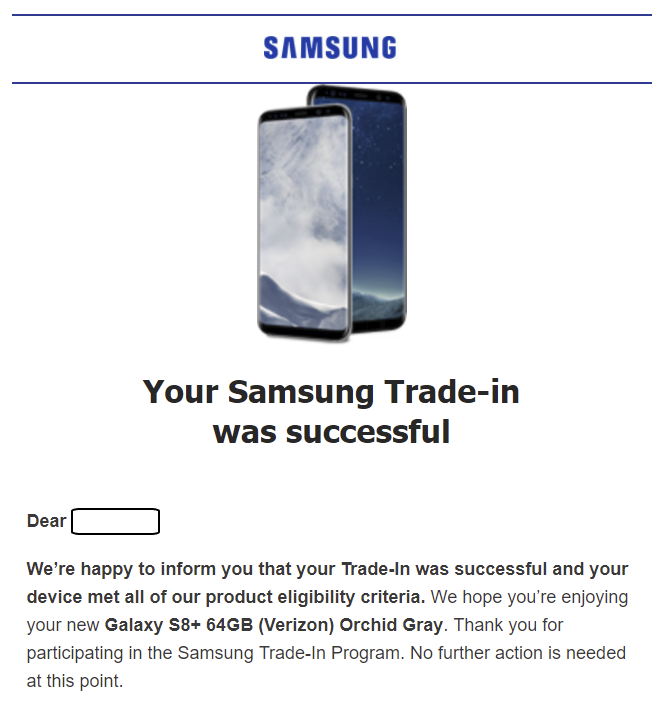 Email sent by Samsung to those whose trade is accepted
source:
reddit
via
AndroidPolice