Samsung gives the CyanogenMod crew a Galaxy S II, says to fire at will
26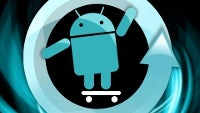 Can you say trailblazer here? Samsung not only looks on the other side when developers make custom ROMs for its phones, it actually started sending a free
Galaxy S II
to select modders to play around with.
One of them is Atinm, part of the ultra-popular CyanogenMod crew, who bragged on Twitter about getting his free phone in the mail from Samsung.
ROM modding has been a favorite way to unlock additional features in your phone, get rid of carriers' bloatware, or simply mix and match the looks and functionalityof a smartphone to your liking, since the dawn of Windows Mobile devices. With the advent of Android, custom ROMs, and especially Cyanogen, have sometimes become the only way to get timely updates to newer versions of Google's mobile OS, with the carriers taking their sweet time and all.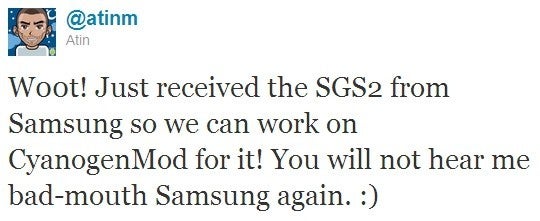 Samsung, however, just took things to a whole new level sending the guy that worked on the Vibrant and Captivate CM7 projects a free Galaxy S II to toy with. With other talented modders reportedly getting their Samsung Galaxy S II units too, this might as well prove a killer strategy by the company. A phone's popularity with the modding community sometimes ensures years of healthy interest in a given handset by customers as well (think the G1). The recent trend of
Sony Ericsson
,
Motorola
and
HTC
all vouching to unlock their bootloaders only confirms that manufacturers are awaking to that fact.
What do you think, will this move by Samsung make a hot Android handset even hotter?
via
PocketNow