Samsung is reportedly polishing the Galaxy Fold's design ahead of production
9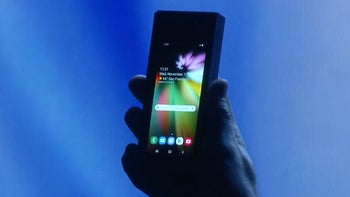 As expected, Samsung's foldable smartphone was a public no-show at CES 2019. But according to
The Korea Herald
, a prototype of the device was actually shown off behind closed doors yesterday to some of the company's key partners.
Speaking with a high-ranking executive from one of Samsung's customers, it has been revealed that
the South Korean giant
is currently applying the finishing touches to the Galaxy Fold's hardware and software.

In its current state, when used as a tablet the device does not "show any crease indicating it had been bent." However, folding it completely does lead to some sort of "breakage." Because of this, it seems Samsung is testing a modified variant that leaves the sides "slightly lifted" when in the fold position. Currently, the prototype does show a "crease mark" but Samsung allegedly assured customers that this wouldn't be present on the final product.
Unsurprisingly,
the foldable phone
is significantly thinner when fully opened. According to the same executive, however, it isn't too thick when folded. In fact, the added thickness reportedly allows for a stable grip.
Aside from this, an executive from another customer claimed that Samsung's device was "specialized for multitasking" and that it would be perfect for people who currently use "both a smartphone and a tablet." Rather interestingly, he went on to compare the experience to
Nokia
's first flip phone, which would suggest there are some big improvements to be made.
The Samsung Galaxy Fold will probably be announced at MWC 2019 next month or at a separate even later on in the year. Due to its new form factor,
Samsung
will be limiting production to around 1 million units and, initially, looks set to target consumers in their 40s.