Samsung's Galaxy Fold expected to rock a triple camera setup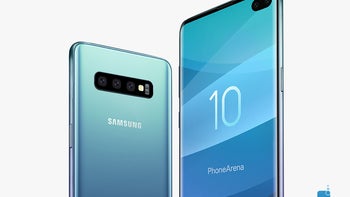 This is how the Samsung Galaxy S10+ is expected to look
Samsung's upcoming foldable phone, known as the
Galaxy F or Galaxy Fold
, is one of the most anticipated devices of 2019. There have been plenty of speculations regarding the device and Samsung even showed us a
thoroughly masked prototype
of it a couple of months ago.
Now we're getting some insights into the possible camera setup of the foldable phone. According to reports coming from
Samsung's homeland
and delivered
by SlashGear
, the ultra-premium device is expected to come with the triple camera setup that's already been assigned to the Galaxy S10+ (there are rumors that put four rear cameras on the plus, but that seems unlikely right now), the third lens being an ultra-wide angle one.
While that makes perfect sense, some might wonder "If it will be so expensive, why not put the most cameras a Samsung phone already has?", meaning the
four-camera setup
of the
Galaxy A9
. While there's no definitive answer to that, we can assume that even Samsung thinks four cameras are overkill and the A9 was just a "because we can" thing.
There's no mention of the "internal" camera setup that should accompany the foldable 7.3-inch display which is perfect for video calls. We've already seen in leaks that the Galaxy S10+ will have a bean-shaped
hole in the display
, housing two front-facing cameras, so it's not unlikely that we'll see the same on the Galaxy F, considering how compact that setup is.
We hinted a couple of times that the foldable phone will be an expensive one, but how expensive exactly? Well, nobody knows for sure, but experts speculate that we might see a starting price of
about $1500
. While that's definitely a shocking number, keep in mind that Samsung is planning to make about a million of them in 2019 and they're targeted more towards people that fly first class, not your average Joe.