Samsung confirms foldable phone release for the first half of 2019
12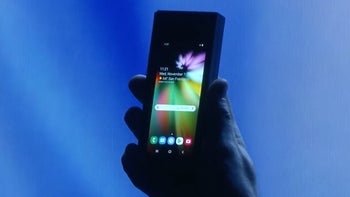 During CES 2019, just like previous years, Samsung again took the opportunity to show off its upcoming foldable smartphone. We've seen glimpses of the device at consumer shows in the past, but it seems to be closer than ever to launch. No, really. We know that you've heard this before and it's been years since we first heard about Samsung's foldable phone, but this time around, the company itself has seemingly confirmed the impending launch.
At CES this year,
behind closed doors
, Samsung showed off its foldable smartphone to select clients and said that it is ready to enter mass production. Suzanne de Silva, Samsung's director of Product Strategy and Marketing, confirmed for
Digital Trends
that the new phone will hit store shelves in the first half of 2019.
However, unlike most Samsung Galaxy models, which are widely available around the world, this foldable device may be have limited availability at first. A Samsung rep has told
Gizmodo
that
"the foldable device will launch by the first half of 2019 in select markets. We are currently ready for its mass production and expecting at least 1 million units to be produced."
This likely means that the foldable Galaxy phone be first made available in Samsung's home market, and maybe a few other regions, but the US and Europe may have to wait a good couple of months before the device makes its way to the West. As far as pricing goes, the foldable Samsung Galaxy phone is expected to start at somewhere around $1,850, shocking as this may sound.