Samsung, Toshiba, & Lenovo to lead Windows 8 ARM charge - in mid 2013?
10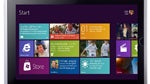 The venders and OEMs that will bring the world the first Windows 8 tablets based on the ARM architecture are being finalized now, according to industry suppliers. Lenovo, Toshiba, and Samsung to the be the first wave of OEMs to bring the ARM slates to market, while chip-makers Texas Instruments, Qualcomm, and NVIDIA will be supplying the guts.
Microsoft apparently selected the chipset manufacturers and then empowered the chip-makers to each choose two OEMs to work with, a major partner and a minor partner. Qualcomm is reported to have chosen Samsung as its lead manufacturer, based on Samsung's current expertise in the mobile devices market.
Texas Instruments selected Toshiba as their main OEM, while NVIDIA has selected Lenovo, possibly with an eye at the rapidly growing Chinese market. Secondary partners included Sony and Acer (and Samsung again). Interestingly, ASUS seems to be left off the list all together.
Then again, there may be plenty of time for ASUS or other partners to gear to produce a Windows 8 slate, as reports are surfacing that Windows tablets based on ARM chips may not reach consumers until the middle of 2013. Why would this happen? Windows 8 isn't expected before Q4 of next year, and if Microsoft has to concentrate on the x86 version to ensure it ships on time, it may be that it'll take another 3-6 months before the ARM version is ready for prime time.
Anyone excited about these combinations of chips and OEMs for a Windows 8 tablet? How do you feel about waiting 18 months to get one?
source:
Digitimes
and
SlashGear