Samsung files for smart device-skin patent
24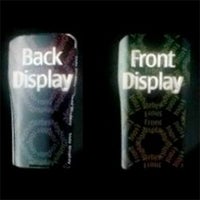 You may remember a few months ago we showed you a
concept video for the Nokia Gem
. It is a concept from Nokia where the entire device is a touchscreen. Interestingly, Samsung has filed for a patent for a similar technology – at least the display part of it.
Samsung's invention enables a user to take a photo or choose an image and electronically wrap it around the device. The design can be altered at anytime. It is essentially a smart skin. In its filings Samsung notes that the smart skin can be built-in to future devices or sold as an add-on accessory for older ones.
Essentially the layer of film would extend beyond the devices screen to encompass the external case. Samsung envisions the user being able to combine the display image with the skin image to view it as one connected image across the device.
It's not totally clear how much power the smart skin would require, as that would definitely be a factor in whether or not it is worth the added visuals on your device. Overall, though, it is a cool concept that we would love to see in action.
source:
PatentBolt