Nokia Gem is 100% touchscreen and 100% concept
23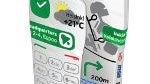 Nokia thinks that the natural progression from touchscreen is touchphone, or screenphone, or touchscreenphone, we're not sure exactly what the
term will be. However you slice it though, the Nokia Gem is 100% touchscreen and it looks pretty sweet, even though it's just a concept mockup and doesn't represent a real product.

This concept is actually quite like another Nokia video that came out a couple weeks ago showing the
HumanForm concept device
, except the Gem is shaped more like a current smartphone. The idea is fairly straightforward: if the phone is entirely made of touchscreen, it makes the phone completely adaptable to whatever task is at hand. Rather than having a phone with a camera app, the phone can become a camera essentially because the entire phone can have new functions appear on any facet.
It's quite an intriguing idea, and definitely one that we'd like to see become reality. It seems like something that could fundamentally change how we interact with our phones. And, assuming it is made of the flexible materials that we saw in the
Kinetic Labs concept
, that could help a lot in making sure your phone doesn't just shatter into dust if you drop it.
source:
AndroidPIT