Samsung executive onboard plane that crashed in San Francisco, sent messages on Path and Twitter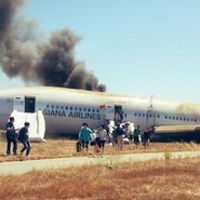 Mobile technology has evolved to the point that a passenger on a plane that just
crash landed
can send out information about the incident through social networks. This allows the world to have a first-hand look into a horrific event. Samsung executive David Eun was a passenger on Asiana Flight 214 which crash-landed in San Francisco on Saturday. Eun sent out a message on Path, which also was sent out over Twitter, noting that he just crash-landed and that he was fine. One message read, "
Fire and rescue people all over the place. They're evacuating the injured. Haven't felt this way since 9/11. Trying to help people stay calm. Deep breaths
…".
Consider the tweet sent out by Eun that shows the passengers being evacuated and running off the plane. Other passengers onboard the flight also took amazing pictures not that long after impact. We have become a world with
crowd-sourced
news and it seems that our first thought, besides getting to safety, is to grab our phones and start sending out images to the rest of the world.
source:
AllThingsD