The ReFlex is a smartphone prototype with a flexible display
21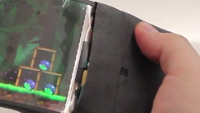 The ReFlex is a smartphone prototype that combines an LG bendable 6-inch 720 x 1280 FOLED screen with multitouch capabilities and a sensor which can determine how much the screen is bent. Unveiled by the Queen's University Human Media Lab, the ReFlex uses the flexible screen to initiate certain features. For example, while holding down the right side of the display, online pages will flip through fingers from right to left just like they would on a book in real life.
With Android 4.4 pre-installed on the prototype, the flexible screen tries to stay realistic, adhering to the laws of physics. For example, the more you bend the screen, the faster the pages of the eBook will flip. Playing Angry Birds, you can bend the screen in order to flex the slingshot. With the use of haptic feedback, you will be able to feel the slingshot tightening, or the pages turning on an eBook. The feedback allows you to navigate your location on an online document without looking at the screen.
The ReFlex will be introduced today at a convention in the Netherlands dealing with interactions between computers and humans. Those involved in the creation of the device say that it is five years away from being commercially available. In the meantime, click on the video below to see the ReFlex in action.
source:
QueensUniversity
via
Engadget