Samsung denies accusations of charging carriers for update
7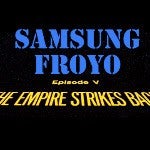 The sagaaround Samsung Mobile and Froyo updates continues with a newstatement by Samsung, which denies accusations of charging carriersfor the Android 2.2 update in a brief reply to Phone Scoop. Thiscomes to deny recent rumors about an agreement that would requirecarriers like Verizon to pay Samsung for an update. An XDA Developerstopic allegedly posted by an insider claimed that:
"Samsung, however, considers it [theupdate to Froyo] a feature update, and requires carriers to pay aper device update fee for each incremental Android update.
Some of you might have noticed Verion'sFascinate updated, but without 2.2 : This is a result of amaintenance agreement Samsung must honor combined with Verizon'sunwillingness to pay the update fees. In short, Android 2.2 is onhold for Galaxy S phones until the U.S. carriers and Samsung reach aconsensus."
But the Korean company denied this andpromises more details soon:
"No. Samsung is not chargingcarriers for Froyo updates to Galaxy S. We hope to have more detailon status shortly. Promise!"
We have seen some of the company'shandsets get an update in the meantime, but Sammy's replycomes a bit late as it caused quite a stir and some even claimedto have filed a class action lawsuit. Hopefully, more details willclarify the situation, but whatever the explanation is, it is hardlygoing to be enough if the update to Froyo doesn't roll out soon.
source: Phone Scoop and XDA Developers