Samsung's official cases for the Galaxy S9/S9+ leak
23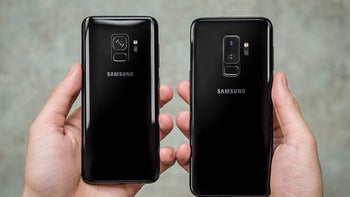 Two weeks from today, Samsung will hold its 2018 Unpacked event in Barcelona
on the eve of MWC. And you know what that means. The
Samsung Galaxy S9
and
Samsung Galaxy S9+
will be unveiled, kicking off the new smartphone season. Besides the two handsets, a number of new accessories will also be available for Sammy's 2018 flagship models. And what is the first thing that comes to mind when you think of accessories? Cases, of course.
Samsung's official cases for the Galaxy S9 and Galaxy S9+ have surfaced. There will be two new styles, Hyperknit and Protective Standing Cover. The former is a woven texture that is usually found in outfits made for those weekend warriors who are into sports. In fact, the box points out that the case is lightweight and sporty. For those who are, shall we say "rough" with their phones, there is the Protective Standing Cover which debuted last year for the
Samsung Galaxy Note 8
. This case is certified to offer military grade protection (MIL-STD-810G-516.7) and will help your Galaxy S9/S9+ survive a drop of 4.9 feet or less. It also will protect the device from dust, extreme temperatures, and features a kickstand for watching video in landscape.
Also available will be the Clear View Standing Cover that was originally offered for the recalled
Samsung Galaxy Note 7
. This accessory was resurrected for the
Galaxy S8
/
S8+
. This case allows the Galaxy S9 or Galaxy S9+ to be used as an alarm clock sitting on your nightstand. Another case style returning is the LED View Cover, featuring an LED display that will show you notifications, calls, battery level and the time.
First offered for the Galaxy S8, the Alcantara Cover is made from, well, Alcantara. This is a soft microfiber with a premium feel, and the case comes with an NFC chip. Samsung's Silicone Cover also is back, and like all of the aforementioned accessories, it is available for both the Galaxy S9 and Galaxy S9+.
The list of official cases from Samsung for the Galaxy S9 and Galaxy S9+ includes:
Alcantara Cover EF-XG960A / EF-XG965A – black, blue, mint, red;
Clear View Cover EF-ZG960C / EF-ZG965C – blue, gold, purple;
LED Flip Wallet EF-NG960P / EF-NG965P – purple;
Hyperknit Cover EF-GG960F / EF-GG965F – red, gray;
Protective Standing Cover EF-RG960C / EF-RG965C – black, silver;
Silicon Cover EF-PG960T / EF-PG965T – blue, gray, pink.
source:
WinFuture
via
SamMobile