Samsung ads seemingly confirm the reveal date of the foldable Galaxy phone
4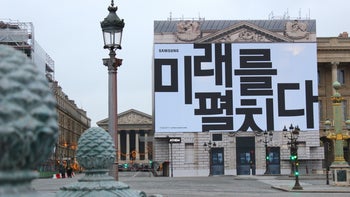 We already got our
hands on the first foldable smartphone
that's ready to go into production, but it's safe to say people will be a lot more excited to see what Samsung has to offer in this new market segment.
We already had some
hints that the Galaxy Fold
(or whatever name Samsung chooses for the device) will be presented at its Unpacked event on February 20th. Now, however, that rumor appears to be confirmed by
Samsung itself
.
The company has put two giant billboards on buildings in the historical center of Paris (don't worry, they are on scaffolding already in place for building renovation) with Korean letters on them, commemorating Samsung's heritage. Of course, the letters aren't random but translate into a message, one is saying "The future unfolds" and the other "February twentieth."
Samsung isn't making us stress our brains too much about what the billboards mean, that's for sure. The "unfolds" part is obviously referring to the foldable smartphone that was
teased a few months ago
with a design-hiding case on. But just over a month from now all the masks are going to drop and we'll finally see the real deal, and hopefully, we'll get some hands-on time with the device as well.
We already know
quite a bit
about the device, but when it comes to foldable phones, the specs are a secondary concern. It's all about how well the folding aspect of the device is executed. If it doesn't feel right to use, its hardware capabilities won't be enough to make people buy it, especially considering the
premium price
it's expected to come at.
After years of delays, rumors and leaks, finally we're just weeks away from witnessing Samsung's "revolutionary" smartphone. No matter how successful (or unsuccessful) it will turn out to be, we can't wait to see it!