Samsung and Nokia are fighting dirty on Twitter
99+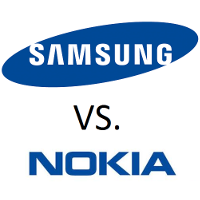 Anyone who doesn't think that the competition is fierce in the smartphone industry needs only to take a look at the exchange of tweets between Nokia and Samsung's U.S. subsidiaries. Nokia apparently started the fight by calling the Samsung Galaxy Gear smartwatch so 2013. Nokia then said that Samsung should bring out smart shoes in 2014 and included an image of what a connected smart sneaker might look like with a hashtag #TheNextBigThing?
Update*:
Samsung reached out to let us know that they haven't posted such a message on Twitter and the screenshot that we posted is absolutely fake.
Obviously this message struck a nerve with someone at Samsung. Perhaps the less than successful Galaxy Gear is not something that Sammy wants to be reminded of. Whatever it was that set off Samsung, it responded by telling Nokia to do something that is anatomically not possible. The message was posted on Samsung Mobile's U.S.Twitter account and was eventually pulled, but not before 490,000 people got to see it.

And this is supposed to be the season of good will among men.

source: Mobigyaan