Samsung and Barnes & Noble unveil Galaxy Tab 4 Nook tablet: a $179 7 incher with $200 worth of free content
14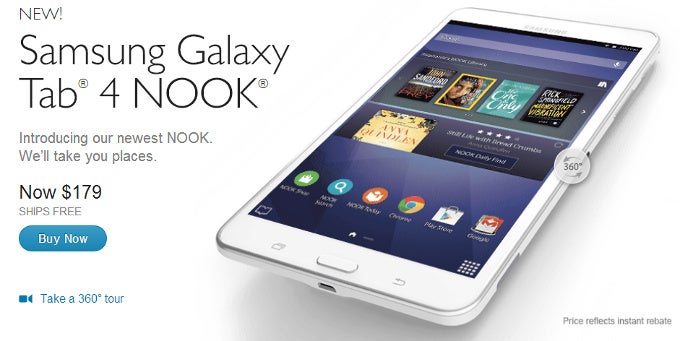 Book-seller Barnes & Noble seems to have given up on its own efforts to develop a tablet, and has instead partnered with Samsung on its new Galaxy Tab 4 Nook. The 7-inch device comes for an extremely affordable price of just $179 and is deeply integrated with the Barnes & Noble ecosystem of books, magazines and other content.
In terms of specs, the Samsung Galaxy Tab 4 Nook is decidedly low-end: it features a 7" 1280 x 800-pixel display (pixel density comes in at the lowly 216ppi), and a fairly middling 1.2GHz quad-core Cortex A7-based system chip.
Unlike Amazon, Barnes & Noble offers the full Google Play Store on the Tab 4 Nook
While the Galaxy Tab 4 is a bit more expensive than the fairly similar Amazon Kindle Fire HD (that sells for $139), it has one key advantage - a rich Android skin with full access to the Google Play Store. Amazon's tablet, in contrast, only offers its Amazon Appstore catalog with a much more limited selection. Not just that, with Samsung's TouchWiz on top of this new Nook, you get neat options like multi-tasking.

Barnes & Noble sweetens the deal with $200 worth of magazines offered for free for buyers of the Galaxy Tab 4 Nook: you get at least 12 issues of your favorite four magazines.