Samsung S Voice ripped and available for ICS devices
67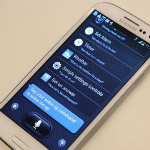 S Voice has been one of the new features of the Samsung Galaxy S III that we've been on the fence about. It could very well be useful, but the problem is that the usefulness of a voice command "assistant" has yet to be proven. Sure, there are some useful things that can be done quickly with voice command, but overall it hasn't quite proven it's worthy of the immense buzz it gets.
Still, S Voice has the promise to be one of the better voice command options for Android. There are certainly quite a few voice command options available, but there is room for a leader if Samsung has the chops to take it. Now, we all get a chance to test out the S Voice software, because the wonderful dudes at XDA have ripped the app from the leaked Galaxy S III ROM.
So, if you have an Android 4.0 device, you may be able to run the S Voice app, and you can decide for yourself how well it works. It's unclear what devices can and can't run the app right now. So far, The Verge got it working on both a Samsung device (the Galaxy Nexus) and a non-Sammy device (the Sharp Aquos), and our readers got it working on a Motorola RAZR, HTC EVO 3D and HTC EVO 4G, but no one is quite sure yet what devices will work, but as yet it does not seem that root is required, nor do you need to have a Samsung device. Let us know what you think, if it works for you, and we'll have our opinion as soon as we can.