Samsung Pay overview: countries, banks and how Samsung's mobile payment works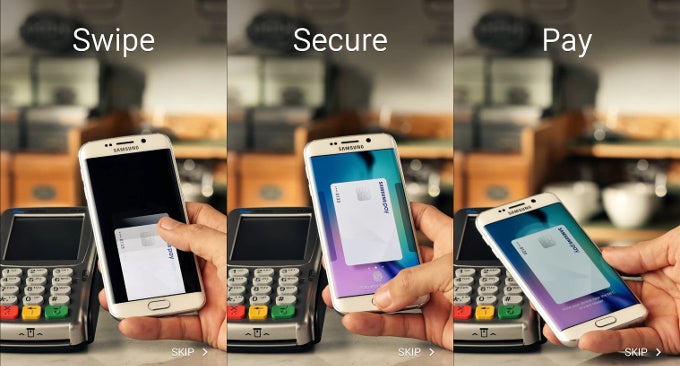 Paying with a smartphone has been a sci-fi dream that's become a reality for most Americans in 2015, and in 2016 the scope of phone payments will only grow.
It was Apple who was first with a true mass-market system that would be used by millions of people with the NFC-based Apple Pay in late 2014. Google who had tried years beforehand with Google Wallet, lacked the scale and widespread adoption of Apple Pay. The company finally became serious about mobile payments in late 2015 when it unveiled Android Pay, another NFC-based mobile payment solution that had the benefit of working with older phones, even ones running Android 4.4 KitKat.
There is, however, one other company that has grand ambitions with its payment system: Samsung.
Its service, Samsung Pay, has one key advantage over both Apple Pay and Android Pay: it works with traditional terminals that don't have a fancy NFC chip (a physical NFC chip is a requirement that a terminal should have in order to work with Apple and Android's solutions). In fact, Samsung Pay supports both magnetic transactions (used in traditional terminals) and NFC wireless transactions (requiring an upgraded terminal).
Your local store does not have a fancy NFC terminal required by Apple Pay, yet chances are it works with Samsung Pay
It's important to understand the implications of this: big retail chains like McDonalds, Subway, Walgreens, Duane Reade and the Whole Foods Market have NFC-enabled terminals, but your local store most certainly does not and even big names like Best Buy have not yet upgraded their terminals to have NFC. While Best Buy is on the list of retailers that will soon support NFC, it will probably take years for small, local stores to get the fancy new terminals. If that's where you do your shopping, Samsung Pay is the only solution that works at the moment.
Samsung Pay's ubiquity secret: a magnetic chip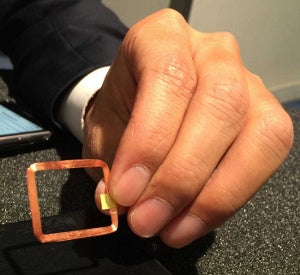 So what is the magic component that allows Samsung Pay to work at those older terminals?
The secret sauce is a little magnetic coil built inside the latest Galaxy phones. This magnetic coil sends a signal that mimics the magnetic signal that the terminal would receive when you swipe your typical credit / debit card, basically fooling it to think that you have paid using the card. The whole process is called magnetic secure transmission (MST).
The smart technology was developed by a company called LoopPay (a Massachusetts start-up acquired by Samsung for $250 million in February 2015), and Samsung has promised to bring it to not just its top-tier devices, but its more affordable phones as well in 2016.
Security
Okay, being able to pay almost everywhere with Samsung Pay is quite useful. But are those transactions secure?
There are two aspects to Samsung Pay security since it uses two different methods for payments: NFC and MST (magnetic).
The security of NFC transactions has been discussed before, but put shortly, let's say that an NFC (Near-Field Communication) transaction happens between two devices (a terminal and a phone in our case) that both have an NFC chip installed. NFC uses less energy than Bluetooth and authorization happens easier and in an instance.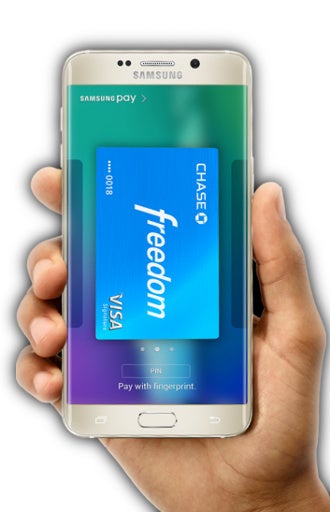 There are two key pieces to NFC transactions security: tokenization (rather than transmitting actual card numbers, what's transferred are encrypted tokens, so it's impossible to snoop on sensitive data) and the secure element. The Secure Element (SE) is a separate chip built inside the phone. It is different than other chips not in just function - it is designed to be physically resistant to malicious hackers. Each time a user starts a transaction, the SE assists in generating a random, one-time use code rather actual card numbers.
The understand the security aspect of MST transactions, one has to understand how MST works. The magic happens in the following way: the magnetic coil inside your Galaxy phone runs alternating currents through an inductive loop and generates a dynamic magnetic field. Terminals aka card stripe readers will read this magnetic field if your device is within 3-inch distance. This exact magnetic field contains your payment information. The fact that it works over just 3-inch distance means that a potential hacker has to operate within this incredible proximity to attempt to steal money, which alone is reassuring that payments are secure.
Supported Devices
We've already seen that Samsung Pay only works on top tier Samsung devices (Galaxy S6 and Note 5 family member), but what about wearables?
Apple Pay is already supported on the
Apple Watch
, but both Android Wear devices and Samsung's Gear smartwatches are lagging behind. Luckily, Samsung has promised that its Gear smartwatches will get support for Samsung Pay in early 2016 and that would be a nifty time-saver.
Samsung Pay in the United States: Supported banks and carriers
Samsung Pay launched on all major US carriers sans Verizon Wireless at first, but by November 2015, Verizon had also joined in, so now the service is supported on all of the big four operators.
Not all banks, however, would support Samsung Pay with their credit / debit cards just yet. There are 6 big names that do support it: Bank of America, Citi, Chase, US Bank, American Express, and PNC, while for the fine details and if you want to check whether your financial institution supports Samsung Pay, make sure to go to
Samsung's official page with those details
.
Samsung Pay goes global in 2016
Samsung Pay launched first in Korea in the summer of 2015, but its biggest test-bed was certainly the United States. Samsung opened the proverbial doors to its payment system on September 28th, 2015.
With its combination of NFC and MST payments, for many users it is the most practical mobile payment solution: one that works in more than 90% of cases.
Is all of that ever going to spread to the rest of the world, though? Good news is that Samsung will light up the first key markets outside the US in 2016. Samsung officials have said that Pay is coming to the UK by August 2016.
Samsung has also signed a key agreement to launch payments in China by the end of Q1 2016 (Apple Pay is about to debut there at the same time). Spain is also in the plans for Q1, while Australia, Brasil, and Singapore are in the roadmap for 2016.