Samsung Mandel for AT&T pictured; Windows Phone model remains on the sidelines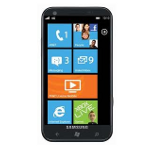 Back in January, the
Samsung Mandel aka SGH-i667
had received its Bluetooth Certification. Two months later,
the Windows Phone powered handset visited the FCC
and they all schmoozed over deli. Since then, nothing has been heard about the device, that is until now when a couple of pictures relating to the phone have been leaked. One picture shows the white, glossy back cover of the phone. The other picture shows a screen cap of the handset connected to Zune Desktop with the model number prominently displayed. The phone has the AT&T logo branded on it in the photo that comes from Microsoft's servers. With 8GB of storage listed, this was not going to be anyone's high-end handset.
The Samsung Mandel might have been skipped over by the Korean based manufacturer as it
works on a high-end Windows Phone 8 device
due out later this year. There is speculation
that the Samsung Galaxy S III is being used as a model for the Windows smartphone
. While there really isn't much known about the SGH-i667, the device was expected to sport a screen larger than 4.3 inches.
source:
WPXAP
(translated) via
WPCentral