Samsung "Mandel" LTE Windows Phone runs through FCC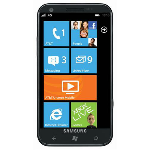 The first wave of LTE Windows Phones looks to be right around the corner. We've been expecting for a while that the first LTE Windows Phone will be the
Nokia Lumia 900
, but now it looks like Samsung will have an LTE Windows Phone coming sometime soon as well.
before CES
. Not a lot is known about the device. Some have said that it will be a larger version of the Focus S, since the Mandel will have a 4.3" screen. Others are saying that it will likely be a Windows Phone version of the Samsung Galaxy S II.
The only thing we do know, aside from the screen size, is that the device will be packing an LTE radio running on the 4 and 17 bands that are being used for AT&T's LTE network. The device also has the HSPA+ bands for AT&T, so it seems like a pretty good chance this will be an AT&T phone. Still no idea on a release date though.