Samsung, HTC and LG join the Power Matters wireless charging alliance, AT&T pledges device support for 2014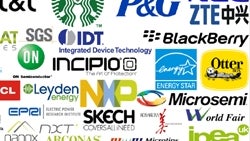 As if the wireless charging standards weren't already too many, and just when the
Qi platform
was seemingly emerging victorious with handsets like the
Lumia 920
and
Galaxy S4
support, now we have a new alliance - the Power Matters Alliance (PMA).
This one is promising to be big, as it just got joined by none other than Samsung, but also HTC and LG, in addition to the previous members like BlackBerry, ZTE, Huawei and the other industry stalwarts like Google, AT&T, Duracell and so on.
Devices with the tech are expected to hit shelves next year, and some charging stations, like the Starbucks pilot program, are already in place, while the
Powerkiss
places in Europe are switching from Qi to the PMA standard. Oh, well, as long as this is the last standard they can agree with, and things are kept interoperable, we are fine with the switcheroo. AT&T is pledging PMA devices support for 2014, meaning it will be nudging makers to integrate the standard in their handsets offered to the carrier, so this thing has all the prerequisites to take off in a big way.
HTC, LG, and Samsung Join Power Matters Alliance; AT&T To Embed PMA into Smartphones by 2014

Austin, Texas and Dallas, Texas (April 18, 2013) – Five months after AT&T, Google and Starbucks announced their support for the Power Matters Alliance (PMA), the momentum behind the PMA continues in full force. HTC, LG and Samsung, global leaders in consumer electronics, have joined the PMA, marking a tenfold increase in membership in the past five months. These latest additions to the PMA roll call are indicative of the quality as well as the quantity of The PMA membership surge.

PMA is today the standard of choice for wireless charging in public places in The US. Over 1,500 charging spots have been deployed across a growing number of Starbucks coffee shops, airports and at iconic places like Madison Square Garden and The Garden State Plaza Mall. It was recently announced that Powerkiss, a European leader in wireless charging, is dropping the Qi standard in favor of PMA installations at their over 1,000 locations across European airports and train stations – soon to include McDonald's restaurants in Europe too.

In recent months PMA has also enjoyed broad support on the device-side, with Blackberry, NEC, Texas Instruments, IDT, NXP, ZTE, Kyocera and accessory makers Incipio, Sketch and Otterbox all joining its ranks. This trend is expected to continue and intensify, following AT&T's announcement that they plan to have PMA-wireless charging integrated into their smartphone portfolio by 2014:

"We want to welcome HTC, LG and Samsung to the PMA," said Jeff Howard, Vice President, Mobile Devices and Accessories at AT&T, and a PMA Board member. "AT&T fully supports the concept of an industry standard for wireless power. In an effort to move toward making this a reality for consumers worldwide and in direct support for the public ecosystem roll out led by Powermat, we have asked our device suppliers to integrate PMA-certified wireless charging solutions by 2014. In the meantime, we are working with them to deploy PMA-certified handsets and accessories as quickly as possible."