PowerKiss provides wireless charging in airport waiting areas
5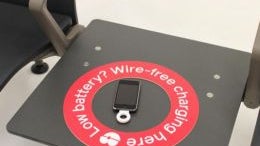 Have you ever flown somewhere, only to find that your phone's battery wasn't up to a day full of correspondence, maps, and restaurant/hotel research? Airports were kind enough to add rows of power outlets, but that only helps if your charger wasn't checked with your luggage. And then they started offering combined charger/power source kiosks.
But there's got to a better solution than standing around a kiosk, hoping to get enough charge for the rest of your travels. A Finnish startup, called PowerKiss, is working on a
wireless charging
solution for airport seating itself. These charging mats would be integrated into the tables which are usually occupied by coffee and fast food remains.
PowerKiss offers a small attachment, called the Ring, which will relay the power from the
inductive surface
below. For the sake of compatibility, the Ring uses popular adapters like mini-USB and Apple's 30-pin connector. Although there are currently only adapters for phones, PowerKiss is working on attachments for laptops as well.
Beyond the waiting areas, PowerKiss is also working with airport food service companies to have such charging surfaces placed in the airports' restaurants. Maybe we're just paranoid, but we think these charging surfaces need to be elevated from the table. Wouldn't it be awful if one person's spilled coffee destroyed 10 people's phones?
source:
VentureBeat
via
Textually