Samsung Gear VR "Innovator Edition" is now on sale for $199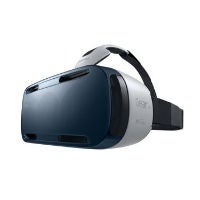 We've been hearing about the
Samsung Gear
VR for a while, and it is finally available for purchase. But, if you are interested, you should be warned that the device is still essentially in beta; so, it may not be quite ready for prime time. Still, if you want to get in on the Samsung Gear VR "Innovator Edition", it is available now through AT&T for $199.
The Gear VR is Samsung's attempt at a virtual reality headset, which was
officially announced
in September, but has been
on the radar
since July. The Gear VR was built in partnership with Oculus, so it does use a tracking sensor from Oculus Rift development kit and a customized interface app called "Oculus Home". The trouble is that it is unclear how much you can do with the device.
First of all, you need to have a
Galaxy Note 4
in order to do anything with it, because the Samsung phablet acts as the power, screen, and sound for the device. The Gear VR itself has the lenses to create the 3D effect, a focus knob, touchpad, back button, and volume controls. Everything else, comes from the Note 4. In the "Mobile Minute" video that AT&T has put out, the features mentioned are: viewing photos and video, and playing games that can be downloaded through the Oculus VR app, but there is no word yet on how many compatible games and apps there are.
Of course, as noted, this is basically a beta program, which is why we said you might not want to set expectations too high. It is only $199 to get in on the fun (unless you don't have a Galaxy Note 4, in which case it will cost you around $800).
We did have fun
with the Gear VR when we tried it out at IFA, but Samsung does still have a lot to prove.