Samsung Gear VR headset image allegedly leaked along with announcement info
13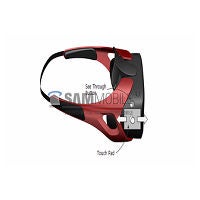 If a new leak is to be believed, Samsung not only has a virtual reality (VR) headset in the works, but it is getting ready to announce the device fairly soon. There was word last month that Samsung was working on a VR headset which would connect to Galaxy smartphones, and this appears to be confirmation of that report. That would mean the Samsung Gear VR is real and may not be too far off.
Apparently, the idea behind the Gear VR is similar to
Google Cardboard
, although the build is quite different. Where Cardboard is literally just cardboard, magnets, and a couple lenses, the Gear VR is a goggle-like headset with an OLED display and touchpad. Still, in use, you would dock your smartphone to the front of the headset (the Gear VR uses USB 3.0). Your phone would provide orientation data from the accelerometer and gyroscope, video imagery from its rear camera, and would power the content.
The Gear VR isn't just a strap and a screen though, it is running software to take the content from your smartphone, split it, and create the 3D effect. It is somewhat unclear what software is running, although it is said that Samsung is working on it with the help of Oculus VR, makers of the Oculus Rift. However, since it is getting all the content from your Android phone, the software on the device doesn't matter as much. Samsung will be offering an SDK for the Gear VR when it is announced.
And, that's the last bit of the new info. The report says that Samsung is planning to announce the Gear VR at IFA 2014, which is set for September 5th to the 10th in Berlin. That is also the time and place when Samsung is expected to announce the Galaxy Note 4. Samsung would just be releasing the Gear VR SDK and making the device available for developers soon after the announcement, but it is unclear when the device would see commercial release.