Deal: Samsung Gear S3 Classic and S3 Frontier now come with $75 gift cards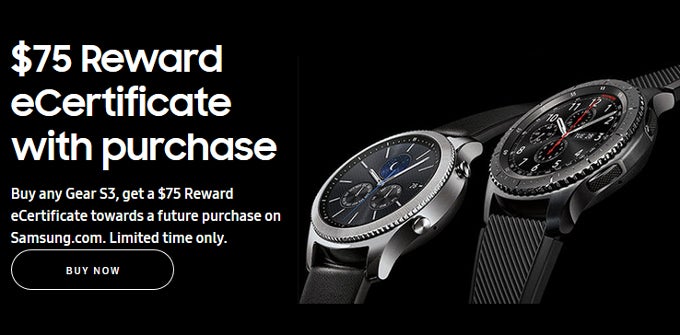 We have bad news and good news regarding Samsung's Gear S3 Classic and
Gear S3 Frontier
smartwatches. The bad news is that the two wearable devices are no longer
sold for just $279.99
, as they were a few weeks ago, so their prices are now back to normal: $349.99 for any of the models. The good news? Well, Samsung is offering $75 Reward eCertificates (aka gift cards sent via e-mail) with each of the two watches.
The $75 Reward eCertificates are available for a limited time only. The will be valid until September 30 (this year) for one-time payments on Samsung.com - you can use them to buy anything from Samsung, with the mention that "using the eCertificate as payment for an order with a value of less than $75.00 will result in the forfeiture of any amount in excess of the value of the order." These $75 rewards can be redeemed only if you're purchasing a Gear S3 Classic and Gear S3 Frontier from Samsung's website or via the official Shop Samsung App.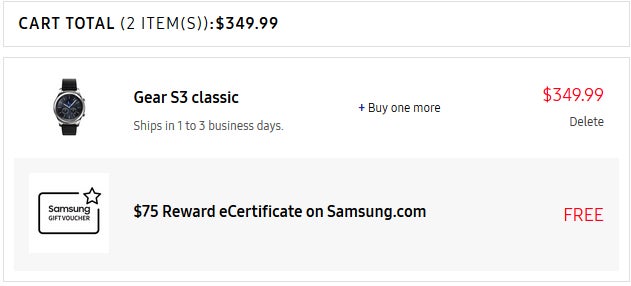 Despite this fresh deal, we're not sure if buying a Gear S3 now is a good idea, as new (and likely superior)
Samsung-made smartwatches
should be
released soon
, possibly in September. Nevertheless, if you really need a Gear S3 watch right away, you can go ahead and order one via the source links below.
Update
: Best Buy is offering its own $75 eGift Cards with the Samsung Gear S3 Classic and S3 Frontier, while Amazon is selling the watches for $298 a piece. Choices, choices.