Samsung Galaxy Tab S 10.5 hands-on
17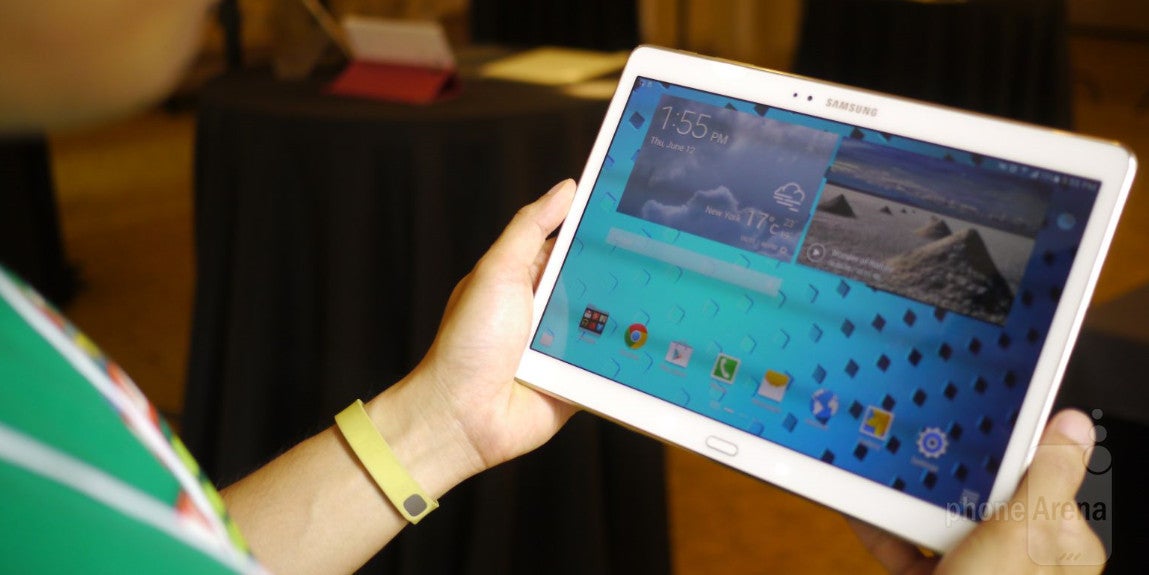 The iPad Air has been tearing up the scene when it comes to full-sized tablet offerings, but Sammy has something special that's going to directly compete against it. If you haven't read our hands-on article with the Samsung Galaxy Tab S 8.4, you might want to graze it over because its bigger sized sibling, the Samsung Galaxy Tab 10.5, shares many of the same specs and features. An unusual size, of course, its 10.5-inch display is able to raise a few eyebrows not only for its number crunching resolution, but for the fact that it employs Super AMOLED technology.
Design
Okay, so this model shares the same design language of the Galaxy Tab S 8.4, but it's meant to be used more in landscape – as opposed to the portrait style construction of its sibling. Visually speaking, the design doesn't necessarily scream premium, since it's mostly comprised out of plastic, which is almost similar to the Galaxy S5. However, what's really impressive about the design is its razor thin body, and its lightweight feel in the hand. For something being talked up as a premium offering, the design is somewhat lackluster. Despite that, we do appreciate that a finger print sensor has been incorporated into this one.
Display
Having a long absence, Super AMOLED is back in full form with this one. Sizing up at an unusual 10.5-inches, the 2560 x 1600 Super AMOLED display is both detailed and iridescent. Looking at it, the extra 0.4-inches of real estate it has over most 10.1-inch screens doesn't seem as profound – so basically, it looks almost similar in size. Details-wise, the resolution isn't something new, seeing that it's been done already by Sammy's Galaxy Pro line of tablet.
However, what's remarkable here is Sammy's decision to bless this with a Super AMOLED display. And sure enough folks, it radiates with a lot of power and awe to catch our attention. Colors have that saturated tone, which isn't a bad thing per se. Additionally, it seems to produce enough brightness to make it visible in direct light. And of yeah, we can't forget about its crisp and clear appearance of the display at wide angles. All told, the display is what really shines most with this one.
Interface
For those who are familiar with Sammy's latest Galaxy devices will be at home with the Galaxy Tab S 10.5's customized Android experience. Using the latest version of the TouchWiz UI, running on top of Android 4.4.2 KitKat, its layout has been optimized, of course, to accommodate the confines and spaciousness of a larger screen. All of the normal TouchWiz features are found here, but Sammy has included a few new goodies with the experience.
Out of the bunch, there's a cool sync mode, called SideSync 3.0, where it can pair with a Samsung Galaxy S5 smartphone, which can then access all of the phone's functions through the tablet interface (think a virtual Galaxy S5). Therefore, we can make phone calls, text messages, and even play games on the virtual Galaxy S5. We didn't get a chance to try it for ourselves with our hands-on unit, but it seemed pretty responsive from the demo we saw.
Playing around more with the software, it's clearly obvious who it's trying to target. Unlike the Galaxy Pro series, the Galaxy Tab S line is more apt to attract mainstream users – whereas with the former, it's meant to suit productivity conscious users. Visually, though, TouchWiz is in need of a revamped design.
Processor and memory
Like the 8.4-inch model, this one is powered by Samsung's Exynos 5 Octa 5420 processor, coupled with 3GB of RAM. Having this configuration, we didn't see any performance hitches with the tablet in our short time. Generally speaking, it manages to maintain a responsive performance – so you can expect that heavy gaming won't be a problem.
Sure to please multimedia heavy users, the tablet is stuffed with an ample 32GB of internal storage – further supplemented by the availability of a microSD card slot.
Camera
In comparison to smartphones, the Galaxy Tab S 10.5's 8-megapixel camera isn't regarded as a serious thing, but nevertheless, it's fast snapping and features the usual arsenal of shooting modes to appease most people. Sorry folks, video recording is maxed out at 1080p!
Expectations
Going on sale sometime in July for $500, where it'll be available in bronze and white colors, the Samsung Galaxy Tab S 10.5 is keeping its eyes set on taking the crown away from the iPad Air. Specs wise, it's undoubtedly a strong contender, but when it comes to design, we're still waiting for a truly premium offering from Sammy's camp. The pricing isn't too bad, considering that it's smacked right there with its main rivals – more so when it's more of a mainstream offering, whereas productivity users might prefer the Galaxy Pro line.