Samsung Galaxy Tab A 10.1 with S Pen coming soon
5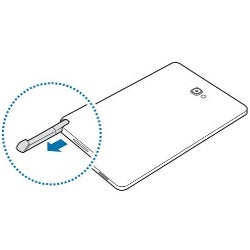 Samsung's new series of Galaxy A tablets has already been launched months ago, but the South Korean company isn't done with the slates just yet. After announcing the Galaxy Tab A 10.1 (2016) back in May, Samsung is now working on a slightly different version of the 10.1-inch tablet, one that will come with an S Pen.
Some pictures taken directly from the tablet's manual confirm the upcoming Galaxy Tab A 10.1 tablet includes an S Pen. While this isn't really something out of the ordinary, since Samsung has already done it before, it will be interesting to see whether or not the new model comes with an advanced S Pen like the Galaxy Note 7's.
Two Galaxy Tab A 10.1 with S Pen models seem to be in the working right now: SM-P580 and SM-P585. Aside from that, the tablet is likely to pack the
same specs as the current model
, which is already available on the market.
As the name suggests, this is a 10.1-inch tablet, which should be powered by a 1.6GHz octa-core Exynos 7870 processor and 2GB of RAM. It might also pack 16GB of storage, but microSD card slot is included too, as seen in the pictures from the manual.
Since there will be two models launched on the market, it makes sense to assume that one will offer LTE support, while the other will feature Wi-Fi only. However, both versions will come with 8-megapixel main cameras and 2-megapixel cameras in the front.
There aren't any details regarding the tablet's price, but it's worth noting the original model is available in Europe for €290 (Wi-Fi only model) and €350 (LTE model). The S Pen version might be slightly more expensive, but probably not by much.