Samsung Galaxy Tab 7.7 LTE benchmark tests
4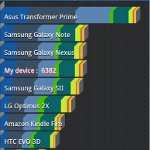 After getting
spoiled by the Asus Transformer Prime
, and knowing that there is an army of quad-core tablets on the horizon, we're not as fascinated by tablets that resort to using yesterday's dual-core processors. Certainly, they'll need to offer something a tiny bit more to stand out. Lucky for the
Samsung Galaxy Tab 7.7 LTE
, not only does it feature lovable 4G LTE connectivity via Verizon's network, but it's also packing a
1.4GHz dual-core Samsung Exynos processor with 1GB of RAM
to really give it a sense of speed with its performance.
As
we've come to expect
, Samsung's Exynos processors have
proven themselves as class leading
thanks to their smooth operation and instantaneous response – and that's exactly what we see out of the box with the Galaxy Tab 7.7 LTE's performance. Naturally, for basic tasks, it handles them with almost no fluff at all, but we do notice just some hints of
choppiness
. Much like other Honeycomb tablets we've checked out, the Galaxy Tab 7.7 LTE is stricken with pervasive levels of
sluggishness and lag
when using a graphically intensive live wallpaper. Honestly, it's never to the point crawling, but its choppy movements across the homescreen undoubtedly diminishes its allure. We were expecting better results, but it's still a tad bit too early to pass judgment.
From L to R AnTutu, AnTutu, Quadrant, Neocore, Linpack, Vellamo, Vellamo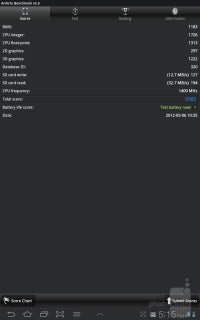 Indicative of the results we've already seen by other devices flaunting the Exynos processor, the Samsung Galaxy Tab 7.7 LTE is a hit with certain benchmark tests – such as Quadrant. Meanwhile, it's still able to put up some commanding results with the other tests as well. As usual, obtaining high marks in benchmark tests doesn't necessarily predict the actual performance of the tablet, for that though, we'll be spending some additional quality time with it to see how it handles our daily requirements. So here are the results:
AnTutu: 6,382
Quadrant: 3,574 to 3,950
Linpack: 70.749 MFLOPS at 2.38 seconds
Neocore: 58 FPS
Vellamo: 1,174
Samsung Galaxy Tab 7.7 LTE benchmark tests