Asus Transformer Prime benchmark tests
17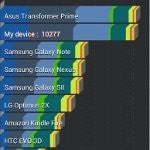 When you think of something that's pure raw power, there's nothing more that should enter your mind than none other than the almighty
Asus Transformer Prime
, especially when it has the prestigious title of being the first tablet to market packing
NVIDIA's quad-core Tegra 3 processor
. Not only does it possess one killer looking industrial design from what we can gather so far, but it also packs the muscle power to shake the foundations of what we've been experiencing on other Android-based tablets.
Even before diving right into running a benchmark test of some sort, we're astounded by the
high-level performance
exhibited by the tablet out of the gate. If fact, we can say with concrete certainty that this is the most responsive Android-based tablet we've come across – hands down! Its fluidity in navigating around the platform is evenly consistent everywhere, so from moving around the homescreen with some kind of processor intensive wallpaper activated, to simply running applications, it's pretty much instantaneous. Remarkably, it doesn't seem tested just yet in the short time of us playing around with the tablet, though, we're bound to put it through some strenuous tasks to see how its quad-core processor will be able to make out.
If there's one thing we've learned from running numerous benchmark tests with Android-based tablets, it has to be that we can't always trust them. Case in point with
Quadrant
, which seems to finish in record timing with the Asus Transformer Prime, but it's only able to establish score between
2,500 to 2,800
, which are hardly numbers that will impress people – even more when we've seen devices like the
Samsung Galaxy S II
and
Galaxy Nexus
breaking the 3,000 mark without a sweat. Well, it simply goes to show that Quadrant hasn't been optimized to work with NVIDIA's CPU. On the other hand, the
AnTutu
benchmark result is more indicative of its processing prowess. Specifically, it's able to achieve an overall score of
10,277
, which nearly doubles most of the scores put out by previous devices.
Taking out the benchmark results out of the equation and relying solely on our experience thus far, we have to admit that this is a speed demon that's capable of executing any tasks with minimal effort! Well, there's still the matter of battery life that we'll be monitoring closely with our usage.