Samsung Galaxy Tab 10.1 with AT&T frequencies passes FCC
3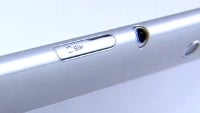 The Wi-Fi version of the
Samsung Galaxy Tab 10.1
went
on sale nationwide Friday
, and it seems that the one with cellular connectivity shouldn't be far behind.
The Galaxy Tab 10.1 with 850 and 1900MHz bands, plus WCDMA II and V, which are AT&T frequencies, has been submitted for approval at the FCC on June 14th, and permission has been granted on Friday.
This is an indication where Samsung's thinnest and lightest 10" tablet is heading some time in the future, but we don't know what price will the Galaxy Tab 10.1 be after AT&T's subsidies. If you buy retail, the 16GB version with wireless connectivity should run you at least $599, judging by other tablets' prices. We don't know if the same HSPA+ radio that is in the
Samsung Galaxy S II
or the
Samsung Infuse 4G
is used inside the Galaxy Tab 10.1, then we might even have 21Mbps download speeds.
Considering that
ITU proclaimed HSPA+ as 4G
, as well as AT&T's own definitions, where even the HTC Inspire 4G, for instance, which has 14.4Mbps download speeds, is being called "4G", the tablet could very well be marketed as such - it's hard to believe that Samsung will place 7.7Mbits or slower radio inside. In the FCC filing, however, the Galaxy Tab 10.1 has the 3G logo slapped on the back, but we don't know if the FCC is referencing the ITU definitions of 4G at face value.

Have a look at the promo video for the Samsung Galaxy Tab 10.1 below to see how the SIM card slot looks like.
Recommended Stories