Samsung Galaxy S8 to boast a larger 4K display for VR, says report
45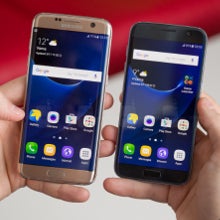 While mobile industry leaders continually seek to innovate, it's becoming increasingly difficult for companies to maintain excitement with yearly upgrades. Even
Samsung's Galaxy S7
, which is considered one of the strongest competitors currently available, is more of a refinement job on
its predecessor
than a radical array of new features. Apparently, though, the next-in-line—Samsung's Galaxy S8 flagship likely due in early 2017—will push the display resolution up to 4K while the size will increase to 5.5 inches.
Considering that the Galaxy S7 is a quad-HD affair with its 1440 x 2560 panel, it'll be interesting to see if there's any mileage in this report from
The Korea Herald
. After all, it's not like the naked eye can perceive pixels on the super-sharp configuration of the S7, let alone anything higher. But according to the info sourced from
UBI Research,
a 2,160 x 3840 panel could be deployed, with VR support cited as a reason for the bump.
It's an interesting claim, particularly given that pre-existing VR tech works just fine on displays of lower resolution than the Galaxy S7's quad-HD offering. If true, we expect that for the most part, the display will be downscaled to save on the device's resources. Sony beat the others to the punch with the
Z5 Premium
, which is credited as the world's first 4K smartphone. But has that particular move been a game-changer?
Not at all
, especially given that,
for the most part, it's set at 1080p
.
It's always interesting to see the kinds of rumors that crop up so many months before device is due to hit the market. Samsung will indeed be looking to make a splash with
next year's flagship
, and we fully expect another Unpacked event to kick off MWC '17 in Barcelona. Though not beyond the realm of possibility, we're taking this one with a substantial dose of salt for now.
Would you be excited by the thought of a Galaxy S8 with a 4K display? Let us know of your take via the comments.