Sony further clarifies why Xperia Z5 Premium mostly runs at 1080p despite 4K display
38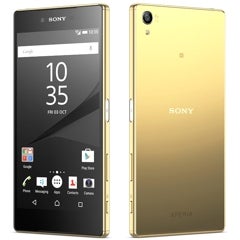 The
Sony Xperia Z5 Premium
is the first handset in the world to include a 4K display, and as we told in
our hands-on coverage
, it's a real joy to behold. But despite boasting an unholy number of pixels that comfortably trumps any other smartphone for density, there are quite a few caveats.
As Sony mentioned
shortly after the announcement of the Z5 Premium, the device only renders media in 4K, with the vast majority of the smartphone's experience set at a less extravagant 1080p. Noted at the time as a battery-saving measure, the Japanese firm has further clarified its stance on why the Xperia Z5 Premium's 4K display, for the most part, does not run at its native resolution.
With a new 23-megapixel camera capable of 4K video, having a 4K display for viewing them can only enhance the user experience. However, Sony knows well that pushing an interface at 2160 x 3840 is going to wreak havoc with battery retention. While some may feel shortchanged that the 4K smartphone isn't always as sharp as it should be, Sony's explanation is a legitimate one:
There's a few reasons – first up, after extensive user research and testing we found that rendering entertainment content in 4K, but still being able to access and use all the other great Sony smartphone features as normal without compromising on battery life, was an absolute priority for users.
Since most apps aren't built for 4K displays as yet, rendering applications and games in 4K mode would be a profligate use of resources:
Many third-party apps are not designed or capable of running at 4K resolution (yet), but as Xperia Z5 Premium's display hardware has a 3840×2160 resolution (4K SID standard) with 806ppi, we feel we've created a future-proof device for the imaginations, developers and apps of the future.
The idea of future-proofing seems a noble enough cause, but one can't help wondering if this is a marketing ploy to set the Z5 Premium apart from the rest. Even to the average consumer, '4K' is an alluring buzzword, despite the fact that for the most part, users cannot make the most of it.
After the stuttered arrival of the
Xperia Z3+
and Z4, Sony needed a strong response, and on paper, the Z5 Premium is just that. But with its marquee feature being somewhat peripheral, early adopters may be waiting a long while to really make use of its capabilities.
If you are considering the purchase of an Xperia Z5 Premium, then the full article is well worth checking out at the source.