Samsung Galaxy S7 vs iPhone 6s Plus optical image stabilization video comparison
53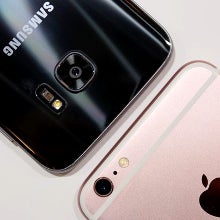 Both the new
Samsung Galaxy S7
and
S7 edge
boast optical image stabilization to accompany the brand new 12 MP camera inside that this time has eschewed the megapixel race for 56% larger pixels than what we have on the S6. Between the new sensor, and the wider f/1.7 aperture, Samsung said that the S7 unit would collect 95% more light than the
S6
in the same scenario, but that's not all there is to it. Besides a new lens/sensor combo, Samsung also equipped the camera on the S7 with a
Dual Pixel
focusing system for the first time in a phone, which uses all of the pixels for focusing, instead of just 5-10% of them, making continuous autofocus switch in video almost seamless.
Coupled with the OIS system, these should do wonders in video recording, that is why we took both the Galaxy S7, and Apple's finest
iPhone 6s Plus
(which also has OIS), and made a video with one on top of the other to demonstrate how well the optically-stabilized 12 MP shooterс perform on both. Granted, the S7 unit at hand may not be fully optimized in terms of software yet, so we wouldn't comment on the quality of the footage just yet, and still this comparison above should give you a pretty good overview what to expect from the S7 video recorder against a fine snapper like the iPhone 6s Plus.