Samsung Galaxy S7 edge S View Cover review
17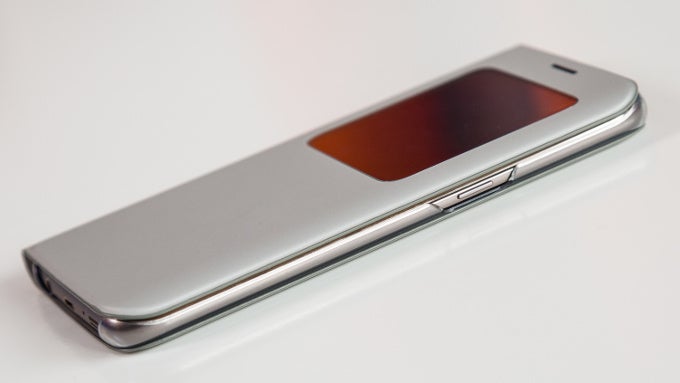 Samsung's new
Galaxy S7 Edge
is one of the hottest Android phones to get at the moment, but buyers would definitely want to get a case to protect it: after all, that curved screen looks cool and fancy, but if you drop the phone and shatter the display, the costs for the repair can be very high. One of the best ways to protect the device in style is the new S View Cover for the
Galaxy S7
Edge
: it provides some level of protection, while also allowing peek window functionality that allows you to quickly glance to see missed calls and notifications.
The S View Galaxy S7 Edge Cover features the useful auto on-off feature, which basically means that when you close the front lid of the case the phone turns off automatically, and when you open it, the phone display lights up. If you don't have a fingerprint set up, you can go to using it straight away once you open it, and if you do have a fingerprint setup, you'd first need to unlock the phone.
What about the small, peek S View window? It delivers a range of quick functions: first, it allows you to check your notifications, but you can also use the camera via that small peek window, which is a nice extra, and you can call your favorite contacts straight from there as well.
Turning over to the case itself, we notice that Samsung has improved its grip, so while it's tight now, it's not as tight as the official Galaxy S6 cases that were such a snug fit that it was a pain taking them on and off. That's not the case here: the phone fits easily and sits snugly fitting.
We're not particularly impressed with the materials used in the S View Cover: it feels paper-like, not necessarily premium in feel, and the same applies to the padding on the inside.
Size-wise, the case does add some bulk to the otherwise impressively well built Galaxy S7 Edge: it makes it noticeably thicker, but the change is not as huge as with other, more ruggedized cases. The case itself is not too heavy, so it won't make your phone brick like in the hand.
Color choices are the typical for Samsung selection: you get a silver (the one we used for this review), white, black, gold, and all of them feature translucent plastic clasps on the four edges.
All in all, the Galaxy S7 Edge S View Cover is a stylish case that does not add too much bulk to the Galaxy S7 Edge. It also brings a very decent level of protection as the phone is protected from all sides, including the front, and you can safely slip it in the pocket and not worry if your keys are there and could scratch it. It will also protect the phone from drops, but it lacks the advanced protection that rubbery, more ruggedized cases provide, so it might not be enough if you are the type that often has their phone slip out of their pocket or just not very careful handling it. which can deal catastrophic damage to it.
The S7 Edge S View Cover costs a hefty $50, which is definitely on the steep side. IF you want an official case with the peek window functionality, though, and want to know it will have an excellent fit and good, stylish finish, you should consider it.
Pros
Stylish looks
Does not add too much bulk
S View window allows quick access to camera and favorites
Cons
Not very great, paper-like feel
Pricey