Samsung Galaxy S7 Clear View Cover review: The prettiest of them all
57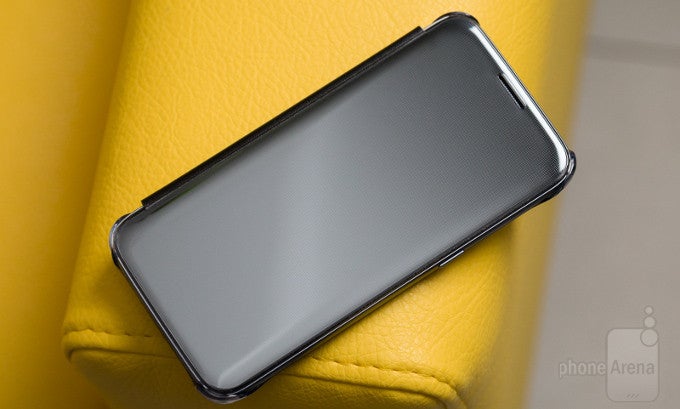 While it seems like nowadays there are as many phone accessories vendors as there are stars in the sky, if you're eyeing the Galaxy S7, Samsung would love it if you keep in the family and grab an official case for it. It has a number of them, some cheaper than the other, and while the Galaxy S7 Clear View Cover isn't our favorite, it is quite unique.
Priced at $59.99, this is obviously a tough sell to begin with, given how A-list, third-party accessories makers will sell you great stuff for half, but Samsung has an ace up its sleeve: it owns both the software and hardware. This is visible with the Clear View Cover, as it's of the 'smart' type, meaning the translucent front folio offers extra functionality such as a peek at the time, date, and battery status. Incoming calls, texts, alarms, and notifications are also displayed. You can pick up incoming calls, tap on texts to have them instantly reveal themselves when you open the flap, and even cancel/snooze your alarm. If there's one thing we feel Samsung should've also included, it's the ability to wake up the Cover by tapping on it or something, instead of having to push the Power button. It would make it much more useful for all those times when the phone is laying flat on a table or desk.
As for the design of the cover, we find it to be more appealing than other similar Samsung products like the
S View Cover
and the
LED View Cover
. The translucent folio up front looks great in person, but it collects fingerprints like crazy—despite Samsung marketing it as highly resistant to these. That's just not the case and it makes use wonder what Samsung is on about here.
In any case, as far as practicality goes, the case comes with hard plastic bumpers protecting the four corners of the device—the rest is exposed, so it's still best you keep your S7 away from keychains and other sharp objects that may scar the phone's profile. The flap sits flush at the back when you're using the phone, though keep in mind that taking photos with this case (and any flip-type case, really) is uncomfortable, as you have to keep the door open and hanging from the side of the phone, lest it blocks the camera on the back.
The Samsung Galaxy S7 Clear View Cover costs $59.99 on the company's official site and comes with free shipping—at least in the States. Color options are limited to Black, Silver, and Gold. Quite frankly, even though we're no fans of the paper-like material it's made out of, we'd go with the
S View Cover
instead—it's cheaper and the window offers more functionality.
Pros
Looks great
Front folio shows notifications and displays time and date
The front folio sits flush at the back
Cons
While nice to the touch, the plastic material picks up fingerprints like crazy
Despite its unique functionality, it's still a bit pricey