Samsung Galaxy S7 LED View Cover review: $69.99 worth of blink-blink?
6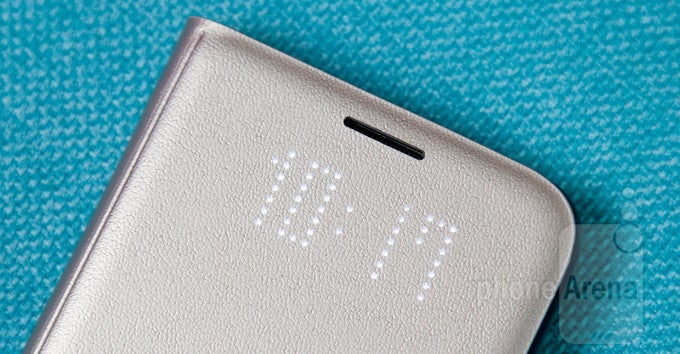 We're no big fans of smartphone cases here at the office. But after having wrecked more smartphone than we'd care to admit, we've come to recognize their utility—looks be damned. Still, that doesn't mean we'd advise any but the most careless construction site workers pick up a tank-y Otterbox case—we believe in a balance. And if you're picking up a smartphone costing north of 600 bucks—like the
Samsung Galaxy S7
—you may want to consider investing a few more to protect it.
You can go for any of the reputable third-party accessories brands, sure. Spigen, Case-mate, and a plethora of others will be happy to take your money, and will trade you great products at a good price. But if you bought a Samsung Galaxy S7, it'd be understandable if you wanted a Samsung case. Samsung made the phone, after all, it ought to be in the best position to deliver a protective case, right? Well, in the case (
hee-hee
) of the Galaxy S7 LED View Cover flip-type case, we're not so sure.
At $69.99, this is one darn expensive accessory, and it's the special LEDs in it that are trying to make the sale. The leatherette (we really can't tell!) finish is soft and pleasant to the touch, and the grey model (also comes in black and gold) we have at hand is even kind of shiny in person. With the exception of the Samsung logo on the back, and two markers for the volume up and down buttons, the case is otherwise unencumbered. As with most flip cases, the LED View Cover is rather bulky and adds a few pounds on the skinny Galaxy S7, which is to be expected, but still hard to swallow. That said, you're getting a pretty decent level of protection, with all areas of the device being covered properly enough for everyday use.
So what's so special about these LED? Well, for starters, they show you the time whenever you close the cover or click the power button. In addition, built-in apps like the Phone and Messenger will display notification icons for about 5 seconds after a new event, but then disappear into oblivion with no way for you to get them back, which is unfortunate. What we liked is that the LED area is touch sensitive, and you can pick up or refuse calls (customizable LED icons for contats) without even lifting the flap—that's a plus. The addition of a single credit card slot is a nice extra, too, and you can even fit two of them if you really try. More than that and the pocket will probably tear, however. It's also worth pointing out that the inside of the LED View Cover is made out of that same leatherette material previously mentioned, and so there's no microfiber built into it to keep the screen clean as with previous Samsung flip cases.
Given the $69.99 price tag of the Galaxy S7 LED View Cover and the mostly unhelpful extras, we'd advice you against going for this particular solution. There's better stuff on the market that's just as well-made, but costing half the sum Samsung is charging or even less—though we admit that we're no fans of flip cases to begin with. If you happen to disagree, we'd still suggest you take a look at the more traditional
S View Cover
, which is notably more affordable at $49.99 and offers richer functionality.
Pros
Clean looks
LED indicator lamps are very bright
Can fit a credit card or personal ID
Cons
LED notifications only live for 5 seconds, never to reappear
LED notifications don't work for third-party apps
LED notifications are comprised of icons only, no substance
You won't feel like you're using a slim device with it
Way too expensive for what it is