Samsung Galaxy S7 Active – specs review
7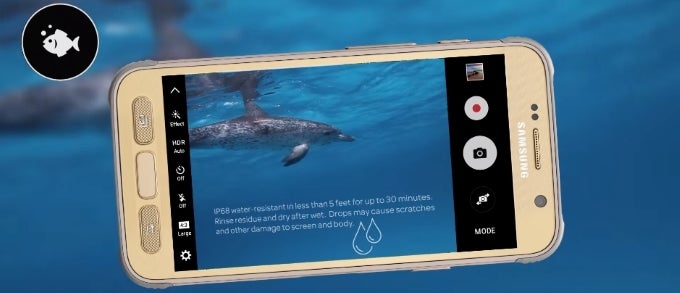 Samsung's partnership with AT&T began back in 2013 with the
Galaxy S4 Active
. Fast forward three years, and the
Galaxy S7 Active
is a matter of fact. Just like before, the original handset's illustrious, but also fragile appearance gets fused with a battle armor to defend it against water, dust, and impact damage.
If fragility was the cause of concern that stopped you from getting a
Galaxy S7
, or you're looking for a powerful rugged smartphone that's also sleek, the S7 Active might be the answer you seek. Let's see what this armored fiend has to offer in terms of design, display, hardware, and camera technology!
Design
Compared to the standard Galaxy S7, the Active variant is unabashedly bulky. It's 0.38in (9.9mm) thick as opposed to the (0.31) 7.9mm Galaxy S7, and the latter's svelte metallic frame is replaced with rubber and polycarbonate – the building pillars of mobile shock defense. Samsung claims that the handset can survive drops from 5 feet or less on a flat surface.
While the regular S7 does have basic protection against water and dust, the S7 Active takes that to MIL-STD-810G level, meaning it's able to withstand extreme climate conditions and altitude pressures. Yes, you can quite literally go to war with this thing! As usual, the original handset's capacitive touch keys have been replaced with tougher physical buttons. They may not be quite as beautiful, but you can count on them in the extremes.
Moreover, the S7 Active is the first of its kind with a fingerprint scanner embedded in its home button. And technicalities aside, the S7 Active also has the colors to give it a rugged look. That would be Camo Green, Titanium Gray, and Sandy Gold.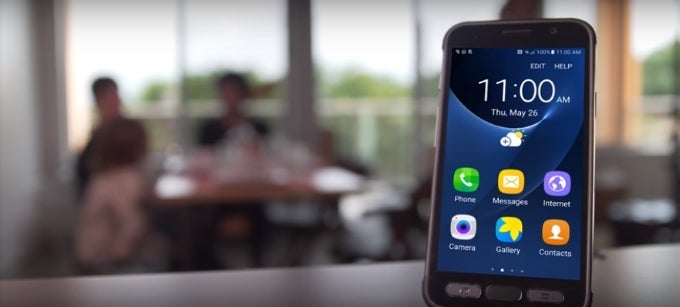 Display
True to form, the Samsung Galaxy S7 Active has a 5.1-inch Quad-HD resolution Super AMOLED display with an 'Always On' mode for glancing at information such as the time, calendar, and notifications without touching and waking the screen. The high pixel density of 576ppi makes for a very sharp screen. The display is also covered with scratch-resistant glass, but it doesn't feature extra toughness in comparison with the Galaxy S7's.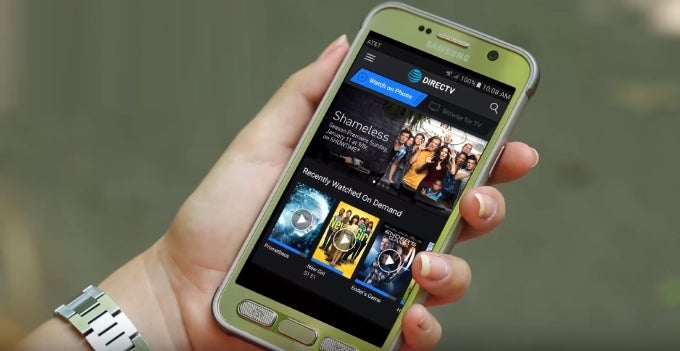 Hardware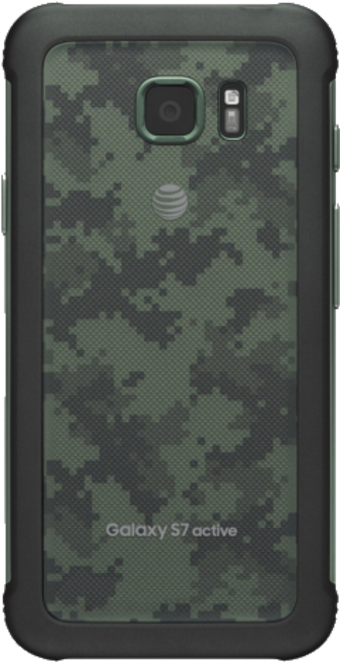 The Galaxy S7 Active is powered by Qualcomm's Snapdragon 820 chip, armed with four custom 64-bit CPU cores, a powerful Adreno 530 GPU, and a cutting-edge X12 LTE modem. Although the number of CPU cores has been reduced to four from the eight stock ARM cores ticking in the previous-gen SD 810 chip, the 820 boasts 30% to 35% improvements in performance and power efficiency. Likewise, the Adreno 530 GPU is up to 40% faster than the older Adreno 430 unit. The chip is paired with 4GB of LPDDR4 RAM and 32GB of UFS flash storage, expandable with a microSD card.
The Galaxy S7 Active benefits from a notable upgrade in the specs department, in the form of a large 4000mAh battery in place of the original 3000mAh unit. While the S7 is rated a 22 hours of talk time, the S7 Active is good for up to 32 hours and promises to power through a day of use. Additionally, the S7 Active's large cell fully charges in around two hours, thanks to the fast charging technology packed into it.
Also, the Galaxy S7 Active includes KNOX, Samsung's defense-grade mobile security platform, implemented at chip level, making the device highly secure from the moment it boots up. The KNOX platform is featured in the regular Galaxy S7 as well.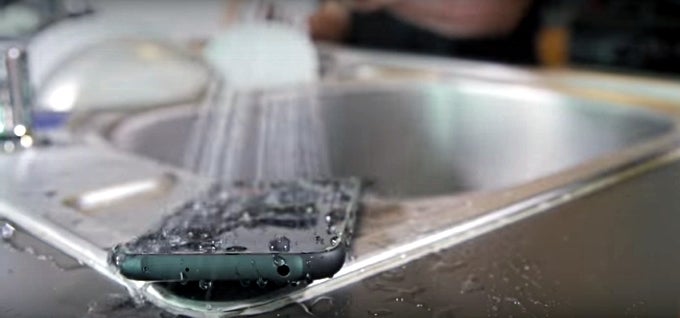 Camera
All is fine and well here, for the Galaxy S7 Active features the Galaxy S7's highly acclaimed 12MP rear camera. The 1/2-inch camera sensor's individual pixels are bigger than the 1.12 micron dots on 20MP and 1.2 micron dots on 16MP sensors, which, coupled with a wider aperture, lets them soak in more light – up to 56%, according to Samsung's estimates.
Moreover, the camera is equipped with dual-PD (dual photodiode) technology for quicker auto-focus. Instead of each pixel site comprising a single photodiode for image capture, the Dual Pixel CMOS sensor allocates two photodiodes for every single pixel site. This makes focus quicker and more accurate, both for photos and video recording. According to Samsung, its dual pixel tech is a first for smartphone cameras. And on the front, there's a 5MP cam with f/1.7 aperture that's pretty excellent for the action selfies you'll be taking with the Galaxy S7 Active.
Expectations
While not as tough as a Caterpilar handset, the S7 Active is solid enough, and also the single most powerful and up-to-date rugged phone available in the States. Available starting June 10, AT&T customers will be able to buy it on AT&T Next for $26.50 per month for 30 months, or on AT&T Next Every Year for $33.13 per month for 24 months.
The carrier will be flexing its marketing muscles for Samsung's rugged flagship with various enticing propositions. On AT&T Next, you'll be able to get a Samsung Gear S2 smartwatch for free (with qualified wireless services needed on both devices). You can also get two S7 Active handsets on AT&T Next, and receive up to $695 in bill credits over 30 months.
With promotions this nice, and with the Galaxy S7 Active's rather unique place in the smartphone market (there aren't that many rugged phones that are also as powerful and beautiful), we can see it being a hit in its niche. And even if you aren't the outdoors type, the proposition of a tougher Galaxy S7 with a longer-lasting battery could be compelling enough to live with the added heft and bulk.
ALSO READ