Samsung Galaxy S6 edge+ transforms into a torch as the unit catches on fire
35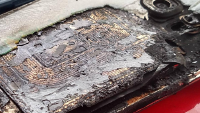 We have seen a number of handsets catch on fire over the years, and the one thing that usually turns up is that the user was employing a third-party charger. But the latest smartphone fire to hit the news has a different twist. While the device was being charged before going up in smoke, we will discuss this part of the incident later. Let's get to the meat of the story first. A
Samsung Galaxy S6 edge+
recently turned into a smores making campfire cooking utensil as it sat right on the user's bed, not covered by a pillow or sheets.
While the phone was just sitting on the bed, the device owner suddenly heard a sizzling sound and smelled some "nasty fumes." As we hinted at, the charger that came out of the box was not the one being used to charge the phone at the time it caught fire. Instead, a charger for the
Samsung Galaxy S III
was used.
According to the
Repair Center
in Pembroke Pines Florida, the use of the Galaxy S III charger could not have caused the fire. Possibilities include a faulty battery or a problem with the phone that was caused by damage done to the handset.
Check out some images of the phone following the fire, by clicking on the slideshow below.
Thanks for the tip!
source:
Reddit
,
Imgur
via
TechnoBuffalo