Samsung Galaxy S6 Active coming to AT&T in May?
8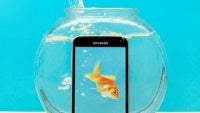 Another day, another unannounced Samsung device shows up out of nowhere. Its model number is SM-G890A, and it sounds like an immediate successor to the SM-G870A, which corresponded to the Galaxy S5 Active on AT&T (pictured below). Thus, this might be an AT&T Galaxy S6 Active, which is pretty much in line with what we expect from Samsung.
The device's User Agent Profile describes a Quad-HD resolution display like that of the Galaxy S6 & S6 Edge, but it doesn't give out clues to any new features. However, it's a sure bet that the Galaxy S6 Active will be protected from water and dust, possibly at the cost of design elegance. The eventual announcement could happen in May.