Samsung Galaxy S5: all the official images
50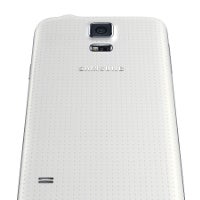 The
Samsung Galaxy S5 is here
and so is a huge gallery of gorgeous high-resolution images of Samsung's new big thing for you to ogle at. Truth is most of us got an early look at the Galaxy S5 from pictures leaked earlier today, and they were so low-res that they left a kind of a wrong impression about the S5. Especially, the dimpled "perforated" back looked pretty horrible on those leaked images, while in reality it has a soft touch feel, much like the one on the Note 3, and it actually looks good on the images below.
Moreover, you'll get to see Samsung's official team great photography skills, and just enjoy seeing the S5 from every angle possible. Little has changed in appearance since the Galaxy S4 (apart from that new back), and as a matter of fact - from the Galaxy S III, but functionally the Galaxy S lineup is evolving. The Galaxy S5 is the first one to feature protection from the elements and that's a nice feature to have. On the back, you can see there is a heart rate monitor right below the camera (and next to the LED flash), and you should also know that the Galaxy S5 comes with a fingerprint reader inside the home key (you swipe on it) and you can use it for mobile payments.
All the rest is specs and history, as they say, and we'd add images to that - take a look right below.
Samsung Galaxy S5 image gallery