Samsung Galaxy S5 Google Play Edition is teased on Google Play website
9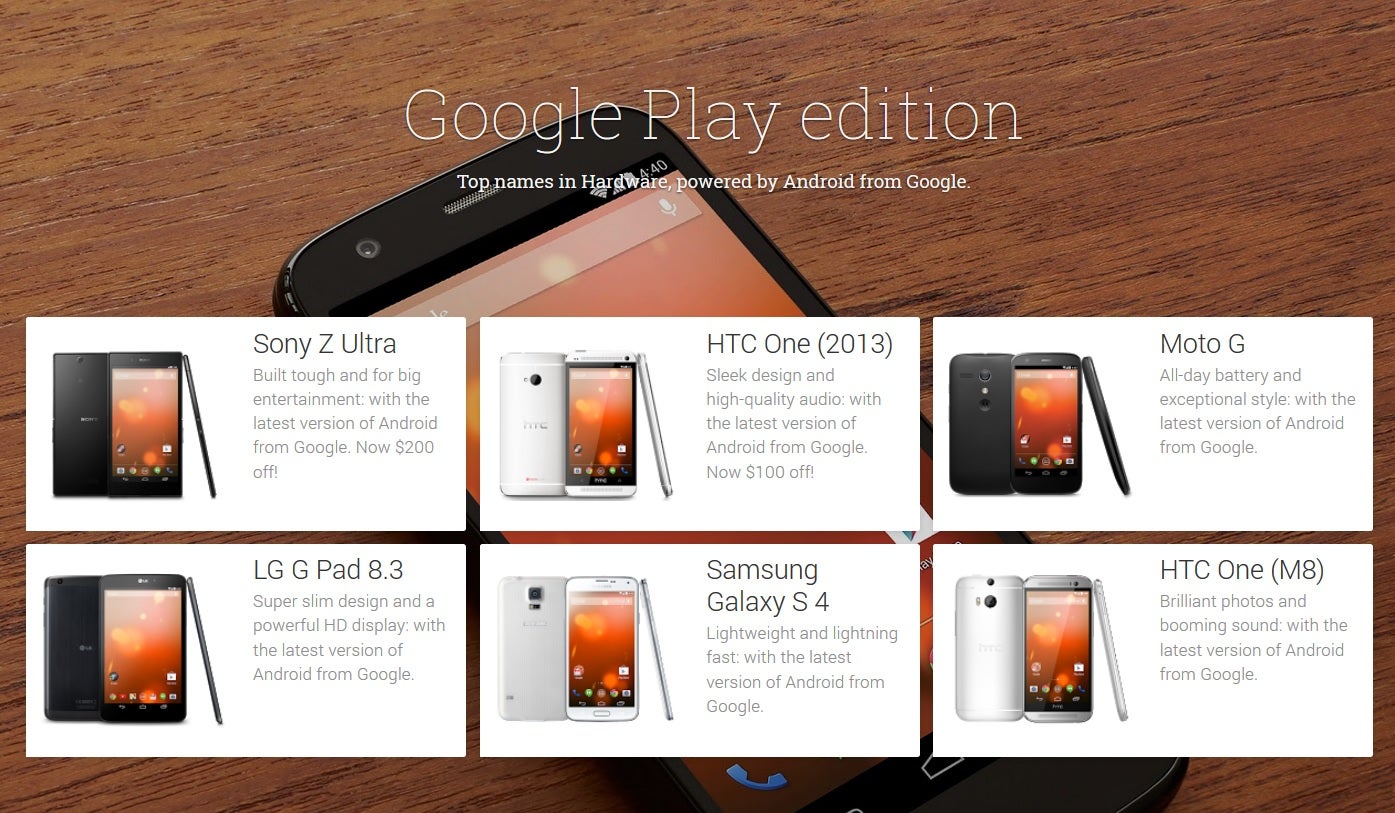 While we are pondering the future of Android, and in particular,
the fate of Google's Nexus line of devices
, things are still business as usual in the Google Play Store.
There is one little interesting tidbit though, when browsing through the choices of Google Play edition smartphones, one thing stands out amongst the Sony and the HTCs, and the Motorola, and the LG G Pad. That is the Samsung Galaxy S4.
The
Galaxy S4 Google Play edition
has been available for some time now, but all it takes is a quick look to see that the rendered image is not a Galaxy S4, but in fact, a
Galaxy S5
. Selecting that option then shows all the specs and images of the S4 again, but the store front, for now at least, is teasing a Galaxy S5 Google Play edition.
Assuming that the thumbnail image is there on purpose, it stands to reason that we could expect a Google Play edition Galaxy S5 pretty soon. We do not know how well the Google Play edition devices are selling, but seeing as how there has been little, or no mention of it from Samsung, and it appears that Samsung and HTC are not going to be joining rumored Android Silver Certification program, we wonder if Samsung is making its presence here solely to compete with HTC who made a point of announcing there would be (and is) a Google Play edition of the
HTC One (M8)
.
We will keep an eye on the Google Play store to see what develops. Have you been holding out for Samsung's latest in pure Android fashion?
sources:
Google Play
via
Android Authority
UPDATE
:
Sometime between our article going up, and now, Google Play changed everything back to the Galaxy S4...we can dream.