Samsung Galaxy S4 for AT&T and Verizon getting updated, KNOX expected
4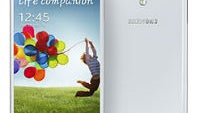 Last night, we heard that the
Sprint variant of the Samsung Galaxy S4
was getting an OTA update that added a few features including apps-to-SD support and Samsung's KNOX security suite in addition to performance updates. Now, it looks like similar updates are rolling out for both the AT&T and Verizon models of the device.
The AT&T update is being rolled out over-the-air (OTA) and clocks in at about the same size as the Sprint update for the S4, but the update does not include the KNOX security suite. It does include the apps-to-SD feature and performance updates, but not KNOX.
The Verizon update is rolling out through Samsung Kies, not OTA, because that update is a massive 1.8GB. It seems that Verizon is pushing the full system image with the update included, rather than an incremental update like the other carriers. But, the update for Verizon does include the same changes as were found with the Sprint variant, including KNOX, apps-to-SD, performance updates and more.