Galaxy S10+ to be Samsung's thinnest flagship in years despite large battery
14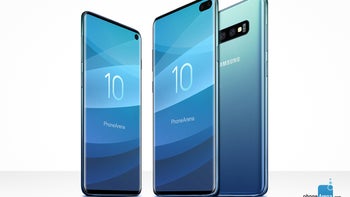 Samsung Galaxy S10 and S10+ concept renders
During the initial smartphone boom, manufacturers such as Samsung and
Apple
often touted the thinness of their flagship devices. Since 2015, though, device thickness has slowly increased in order to accommodate more components and bigger batteries. But with the
Galaxy S10 series
, Samsung could once again move towards a thinner design.
As revealed by
tipster
Steve Hemmerstoffer, the Samsung Galaxy S10+ will be Samsung's thinnest flagship in years. More specifically, the device will measure in at just 7.79mm, making it the company's thinnest device since 2016.
To put this further into perspective, Samsung has produced just five flagship devices that are thinner than the upcoming Galaxy S10+. These are the
Galaxy S6
(6.8mm), the
S6 Edge+
(6.9mm), the regular
S6 Edge
(7mm), the
Galaxy Note 5
(7.6mm), and the
Galaxy S7 Edge
(7.7mm).
Samsung's latest feat comes despite the presence of a large
4,000mAh battery
inside the Galaxy S10+ and multiple cameras on the rear. Neither of which were found on the devices listed above. In fact, all of the aforementioned models included just one rear camera and significantly smaller batteries.
When it comes to the regular Galaxy S10 and its smaller sibling,
the Galaxy S10E
, it appears Samsung has also chosen to push the boundaries with thicknesses of 7.85mm and 7.94mm respectively.