Samsung Galaxy S IV to scroll on-screen content based on eye movement?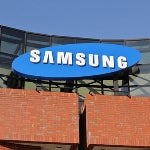 According to an anonymous Samsung employee familiar with the phone, the
Samsung Galaxy S IV
is going to feature technology that will allow the content on the screen
to scroll
by tracking eye movement. Samsung currently uses the front-facing camera on devices like the
Samsung Galaxy Note II
to allow the screen to stay on until the user falls asleep. Another feature using the camera keeps the screen in proper orientation at all times.
more important
than the hardware.
Samsung has filed a trademark for the name "eye scroll" in Europe and the U.S., explaining that it covers "
Computer application software having a feature of sensing eye movements and scrolling displays of mobile devices, namely, mobile phones, smartphones and tablet computers according to eye movements; digital cameras; mobile telephones; smartphones; tablet computers
." The
next flagship Android phone will be introduced March 14th in New York
.
source:
NewYorkTimes